We express ourselves in so many different ways, from makeup and hair styles to tattoos and music preferences. Fashion, however, offers a different kind of empowerment in that the creative opportunities are limitless. Want to wear clashing colours, textures and patterns? Do it. Want to create a fusion between vintage and modern trends? Go for it.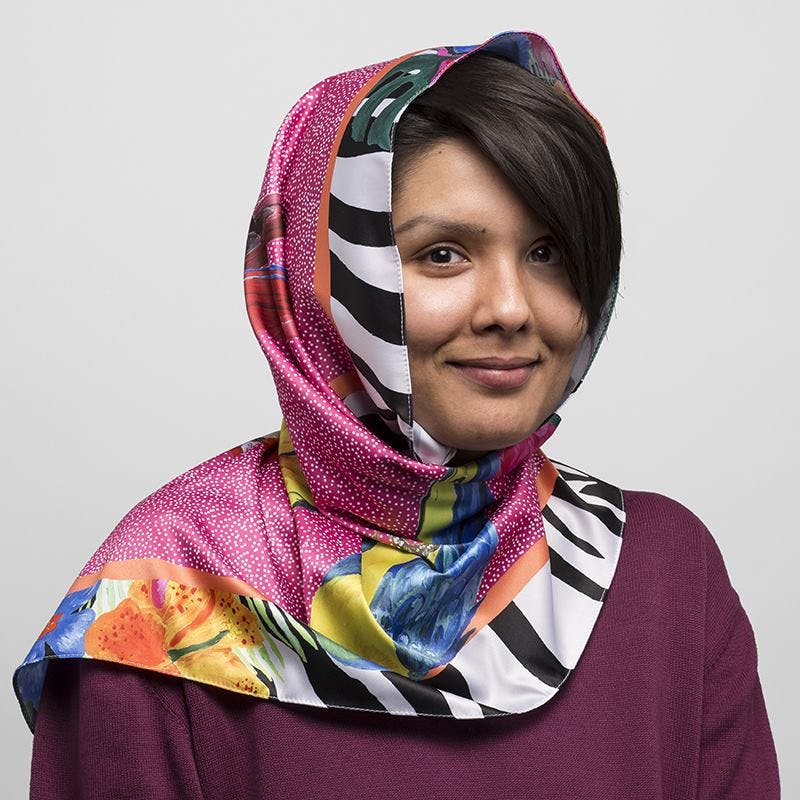 Though for women and men who wear religious dress, it can be more challenging to express personality through clothes, despite having accessories, colours and various patterns available. But, cultural beliefs don't have to get in the way of having some wardrobe fun, as you can design your own head scarf using unique prints. This is the ultimate compromise between faith and fashion.
Why Design Your Own Head Scarf?
As the fashion world is becoming more and more accessible, it's important to ensure this space remains inclusive of everyone. You can design your own head scarf as an empowering way to create synergy between your personal style and religious beliefs. We all modify our look based on environment, company and mood, so there's no reason why you can't have a collection of headscarves that perfectly complement your outfit. From job interviews and dining out, to ceremonies and shopping, you can design one to suit any occasion.
Customise Your Head Scarf According To Your Needs
Apart from the fact you get to show off your sassy style without compromising your beliefs, there's more benefits for you to reap when you design your own head scarf.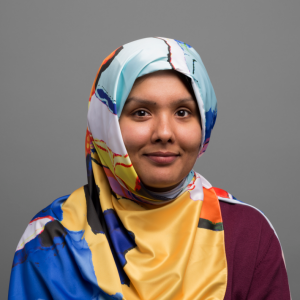 Choose from different fabrics
There are so many beautiful fabrics for headscarves; it's difficult to choose. Each has its own character and gives you a distinct look. Whilst there's some classic headscarf and hijab material, there's no harm in letting your imagination wonder what else is possible.
1. Jersey Fabric
Jersey 160gsm is a solid choice, being that it's comfortable, light, stretchy and durable. Wear your jersey headscarf all year round thanks to its warming knit structure and breathable properties; helping you lock in heat when you need it and keep you cool in the summer. A jersey headscarf or hijab is perfect for everyday wear, and when printed with your own designs, it's easy to jazz up your daily look.
2. 100% Real Silk Satin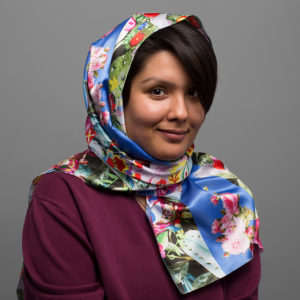 For an elegant look, try a customised 100% real silk satin headscarf. Despite being incredibly light, don't look the weight fool you, as this is a durable fabric that can withstand everyday wear and tear. There's only slight give in the bias, but it's the way the drape falls in natural waves and folds that make it so captivating.
3. Paris Chiffon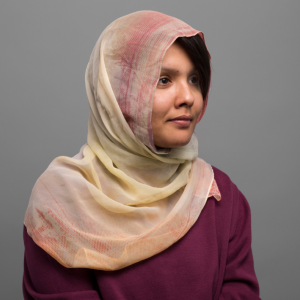 If you're looking to make a truly enchanting headscarf, choose the Paris Chiffon. Thin, slippery and semi-transparent, it makes an ideal fabric for a Shayla. It will need other means of support, such as pins, to keep this fluid material in place, but the luxurious silky texture is worth it. Due to the transparency, you'll need an underscarf, preferably in the dominant colour of your unique design.
4. Lycra Fabric
Lycra Matt and Lycra Sheen are perfect for voluminous headscarves featuring lots of folds, wraps and drapes. They are thin in nature, but super malleable and durable with a 4-way stretch. Lycra also has moisture wicking capabilities, drawing perspiration away from the body, lending itself well to making a headscarf for exercising in.
Different Types of Headscarves
Depending on the size, you can essentially design your own head scarf to be styled however you want. Custom headscarves are suitable for a variety of religious coverings, some of which are:
Hijab – A scarf that covers the hair, and general term for modest dress code
Niqab – Headscarf that covers the face showing only the eyes
Burka – Full body coverage including the head and face
Al-Amira – A two-piece veil consisting of head cap and scarf
Shayla – A long, rectangular scarf that's gathered and pinned at the shoulders
Khimar – Headscarf that covers the hair, neck and shoulders
Chador – A full body cloak that shows the eyes
Tichel – A headscarf worn by Orthodox Jewish women, traditionally tied in a bun
Dhuku – An African headscarf, also known as a Doek in South Africa
Turban – A headscarf synonymous with the Sikh religion, mostly worn by males
Do you want to show off your style but still abide by your religion? Then design your own headscarves with your own patterns & designs today and dare to be different!
How to Design Your Own Head Scarf
Click 'Start Design'
Select your preferred fabric
Choose a size
Select a hemming option (baby hem or 3-thread overlock)
Upload your image files and edit until you're happy
Preview your final design before proceeding to checkout
Just click the banner below to get started!