"Jump right in, the water's fine!"
With the holiday season fast approaching and summer months not far behind, our minds turn to beaches and pools, cheeky cocktails in the sun, and swimwear. Finding a swimming costume or the ideal pair of trunks can feel like a chore. Instead of traipsing through aisles of endlessly samey swim shorts or dusting off that old bikini for the fourth or fifth consecutive summer, turn your swimwear blues into a sea breeze.
Get to know what swimwear really is. Everyone has a beach style which reflects their personality, but it's often difficult to match your exact style to what's in the shops. You might find the perfect style which simply doesn't go up to your size, or the perfect fit with a pattern that's less than flattering. Whether you're going to exotic beaches or just the local lido, it's important that your outfit is comfortable, durable, and looks fabulous! Ensure all three by turning your hand at making your own swimwear.
Always wondered what swimsuits are made from?
The wide world of fabrics may seem daunting when it comes to swimwear, even for the more seasoned sewers. Luckily for us, there are already tonnes of fabrics perfectly suited for swimwear in all its forms. However, they often hide in categories like 'dancewear fabrics' and 'sports' or 'technical fabrics'. Combat any confusion by getting to know the traits of the best swimwear fabrics.
Impermeability – Waterproof or water-resistant
Stretch and Recovery – Flexible and able to bounce back into shape
Opacity – Not turning see-through in the water
Durability – Strong against water and the sun's rays
Contrado's Swimwear Fabrics
Our selection of swimwear fabrics covers a range of characteristics; some are most suited to beachwear and garments worn near water and in the sun, and some of our fabrics are perfect for swimsuits and made to be immersed in the water with you. Have a look at our top picks, starting with our best swimwear fabrics for swimming costumes and trunks. Next, we'll go onto fabrics for wetsuits and warmer garments, and finally we'll introduce a splash-proof fabric for a variety of beachwear.
"just keep swimming, swimming, swimming…"
Boasting an impressive four-way stretch with high flexibility, this Lycra is anything but average. Loyal to its name, Lycra Soft Sheen gorgeously reflects the light creating an elegant shimmer across the face. With moisture wicking capabilities, Soft Sheen draws heat away from the body. This makes a perfect fabric for one-piece suits with a lot of embellishment.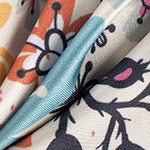 Lycra Soft Sheen is not entirely opaque and lets light in, but also retains stunning colour when stretched. Whether you're on glorious Mediterranean shores or Brighton's pebble beach, with swimwear made from Lycra Soft Sheen, you'll glimmer in the water and glisten on the sand.
This fabric does exactly what it says on the tin! The printable side of the fabric is coated with PU. While being 100% waterproof, it also allows water vapour out so you can keep cool in the heat. The stiff handle and tight weave mean your designs show up gloriously, perfect for intricate details.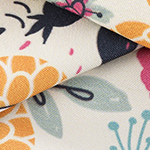 A lighter weight than our Lycra options, Breathable Waterproof is a stiff fabric so has zero of the stretch that the Lycras have. This makes it suited to swimwear with independent shape such as tailored swim shorts. Breathable Waterproof is easy to work with so you can add zips, buttons, and pockets with relative ease.
Also featuring a four-way stretch, this Lycra has a super-quick recovery, flawlessly springing back to shape. At 210gsm, Slinky Matte is heavier than its Soft Sheen sister is has a firmer resistance. It is more opaque when wet, so ideal for bikinis with lighter patterns and paler colours.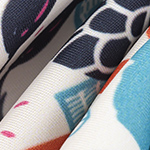 Lycra Matte is perfectly form fitting as it drapes effortlessly against the body. The slippery face and super smooth reverse make it feel like a second skin, adding sensual elegance to any swimwear style. From trunks to tankinis, everyone can channel their inner David Hasselhoff and Pamela Anderson in our Slinky Lycra Matte.
"water, water everywhere…!"
Super soft against the skin, our smooth-faced Scuba is a spongy, heavy-weight knitted fabric. It has impressive stretch recovery, so it can easily mould around the curvature of your body while maintaining its shape when not being worn.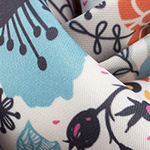 Scuba fabric is often called a thin Neoprene because of its impermeability and ease to manipulate. For the adventurous open water swimmers, this fabric makes excellent swimsuits providing great warmth and resistance. Ideal for making your own wetsuit, Scuba fabric also lends itself to children's wetsuits and first swimsuits for babies with extra coverage.
A slightly heavier weight than Scuba, this fabric has a smooth back for a gentle touch against the skin and a textured front giving more depth to your designs. Scuba Crepe bears the same characteristics of versatility as Scuba, just with an interesting grainy look.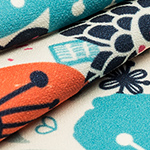 Suitable for wetsuits and swimwear with more coverage, Scuba Crepe offers the feature of texture. The printed face maintains vibrant colour and is ideal for bouncy patterns and lively designs. Spongy with an elegant drape, Scuba Crepe fabric is also great for additions to swimsuits such as skirts, belt ties, or straps, adding texture and practicality to existing outfits.
"…he showed off, splashing around…"
If you're less of a swimmer and more of a pool-side lounger, you might not be looking for a waterproof fabric but instead something that'll keep you cool and dry. Although Nautica is not waterproof, it has a water-resistant coating which makes it perfect for handmade beach shorts.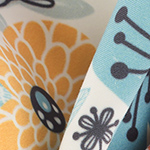 Nautica Splash Proof is a solid, taut fabric that's semi-transparent and looks great with vivid and contrasting prints. For beachwear perfect for the littler ones, Nautica provides comfort and breathability, and they can have water fights all through the summer without getting their clothes soaked through!
Riding the wave of swimwear trends

Leaping Leopards
It reared its fierce head in Autumn, lived strong through winter, and it's here to stay throughout the spring/summer season. Harking back to the nineties (read: Scary Spice catsuit), leopard print has slipped back into our lives and nobody's sorry. Not exclusive for the girls, turn boy cubs into jungle kings with Breathable Waterproof swim shorts rippled with leopard print. Think outside the box with less conventional hues and diverse pattern directions.
Beach-to-Bar
You may love your feather-clad crop top or your semi-see-through briefs, but we all know there's a time and a place. Versatile garments are a hot trend which we've already seen as we battled the dismay of high temps in mid-winter. Create swimwear out of fabrics that can dazzle and protect, be beautiful bare and flattering layered. Soft Sheen Lycra is a personal favourite as it's super adaptable. Quick-drying qualities make it perfect for wearing under a sheer, cotton shirt or providing support under a flowing and airy beach dress as you head to the Sangria stand.
The Swimming Sixties
Take a plunge even further into the decade of free love, cheap thrills, and fabric frills! The 1960s was the first decade to liberate women's swimwear. Skimpy one-pieces and bikinis were all the rage. Modern styles merged with traditional fabrics; terry-cloth with its stand out texture was a very popular swimwear fabric. Be gone with subtlety and try a delightfully different look on the beach with a Terry Towelling swimsuit. This fabric is highly absorbent and quick-drying, with the familiar, fluffy and soft texture. Finish the outfit with a printed headscarf – perfect for protecting beehives.
Take a dip in our fabric oasis
Now your head is full of swimwear ideas, check out our entire range of fabrics in a handy swatch pack. See all the fabrics, feel them, stretch them, and submerge them in water if you like! Choose your favourites and don't forget to share your thoughts and swimwear creations with us.