As an artist, you may think that Instagram is the only social media platform worth your time. It's aesthetically focused, fosters niche communities and offers users a lot of creative inspiration. In a nutshell, it's an artist's haven. But if you follow these tips for artists, Facebook can also be an effective marketing tool to promote your brand and artwork.
Sceptical? Understandable. Facebook is notorious for updating its algorithms, making it harder for small business pages to reach a viable audience. So aside from paid posts, you might be thinking there's not much else you can do, but what if I told you otherwise? Use these following Facebook tips for artists to help turn your business page into a profitable platform for your artwork.
Facebook Tips for Artists
By the way, I'm not going to insult your intelligence by listing tips like 'fill out your profile, include a link to your website' etc. Hopefully, that's something you would naturally do. Right, okay, let's go.
1. Be authentic
When people go onto Facebook, they're usually there to watch a funny dog video, share a few memes and keep up to date with friends and family. That's why it's important you remain authentic, showing your personality whilst still being on brand. Ultimately, you want to come across as a familiar, friendly face, not a corporate, faceless entity. If it fits your brand image, you can use humour to engage your audience. Selling art doesn't have to be so serious.
2. Give people incentive
Out of all the artist Facebook pages, why should someone follow yours? Well, firstly, you need to carve out your target audience and establish the types of content they consume. From there, you should be able to decide what your page is going to offer followers. Much like a story, your Facebook needs an angle, and the content should differ from your other online channels.
Video content is insanely popular – each day there are 8 billion video views on Facebook – so one idea is to use your Facebook page to share work in progress videos or simple art tutorials. Essentially, you need a hook; something that makes you stand out from the competition. This will give people an incentive to like and follow your page, since you're giving them exclusive content they can't find anywhere else.
3. Interact with followers
As I mentioned earlier, being personable is a must for artists to succeed at utilising Facebook successfully. If someone asked you a question to your face, chances are you would reply. When you post a mock-up of an idea, why not ask for their opinion? After all, you want these people to end up buying your art, so through conversation you can discover what they like and ultimately give them more.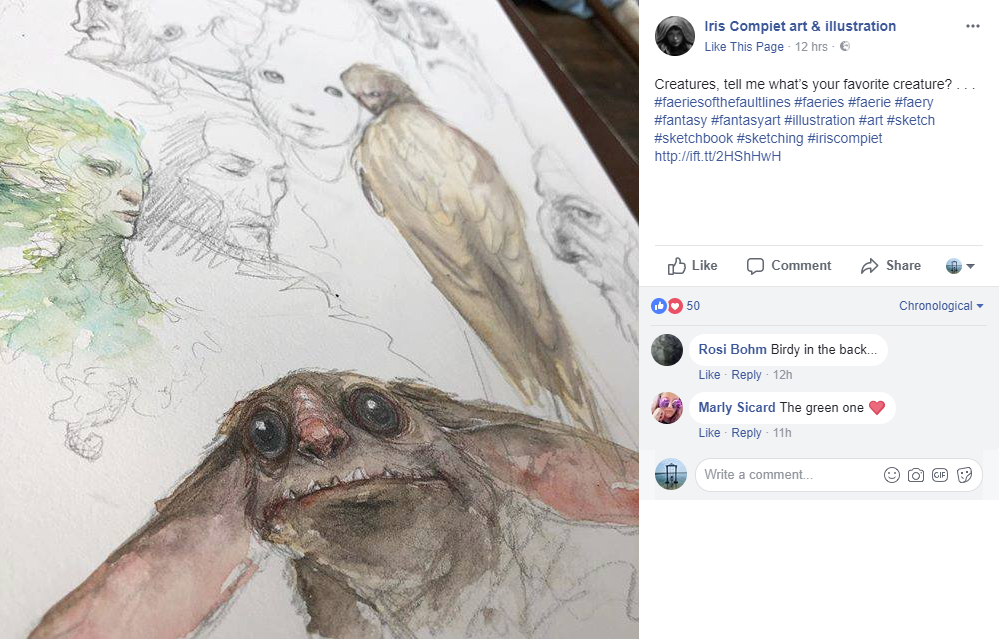 4. Post regularly
Facebook newsfeed algorithms aren't chronological. Instead, what the user sees on their feed is based on the profiles and pages they regularly engage with. To ensure you're popping up on as many feeds as possible, you need to keep your page active. Post once a day as minimum and use Facebook insights to gauge the best time of day to post.
The stuff that you post should be relevant as well as regular. Stay on topic and evolve naturally as your audience does. Keep on track of your best performing posts to get an idea of the types of content your audience wants to see.
5. Don't try a hard sell
Facebook, despite having the option to tag products, isn't a place where people necessarily go to shop. Obviously, you need to sell, but the art is with subtlety. You could limit your promotion posts to once every 2 weeks but also have a photo album dedicated to pieces for sale that fans can peruse at their leisure. To make the transaction more personal, you could ask people who are interested in purchasing to Private Message you. This invitation is way more informal than leading people to a page asking for their payment details.
The process of buying art, in any form, is more nuanced than an everyday purchase. It's intimate, personal and shouldn't be rushed, so respect this when it comes to your audience.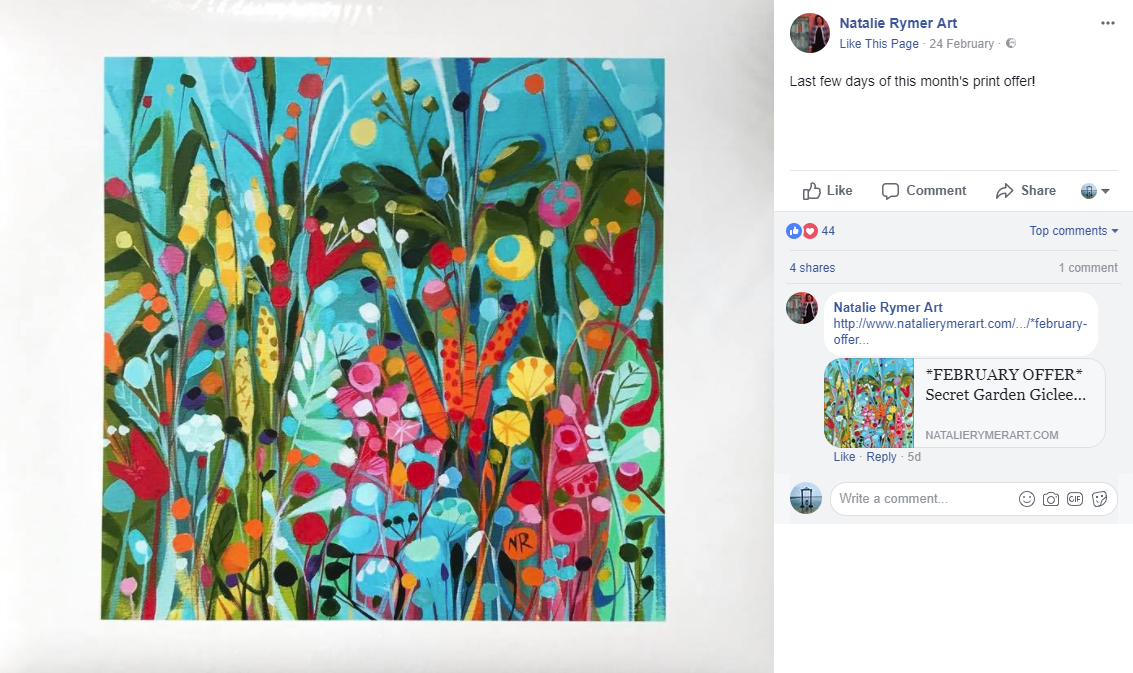 Growing your brand does take time, and it's not going to happen overnight. But if you persevere and dedicate time to your online channels, the results will pay off. Share your own Facebook tips for artists below in the comments.
Another way to develop a successful brand is through our #ContradoCreatives platform. With Contrado you can print your designs onto 100+ fabrics and over 400 handmade products and sell your art online.
Click the banner below to see how easy it is to become a #ContradoCreative and start selling your art online. POW!