We all know how difficult it is to make money as an artist. From getting inspiration to mastering your craft, it's a hard-knock life for creatives out there. Luckily, in the age of print-on-demand services and eCommerce, monetising your art has never been easier. Because of this, everyone is wondering how making money on Redbubble (and other print-on-demand services) works.
With the slew of different services out there, it seems like every company's got its pros and cons. What is the difference between print-on-demand services? Is there even a difference at all?
We answer that question by putting two under the microscope. Learn how making money on Redbubble and Contrado really works.
What is Redbubble?
Redbubble is a popular print-on-demand service born out of Melbourne, here in Australia. They offer a print-on-demand service for independent artists to design and sell products. Artists can design on their range of 60+ products, including t-shirts, mugs and coasters.
Artists can print onto the rectangular space provided on the front and back of their shirts. Some products allow you to control the scale, background colour and repeat of the design. In addition, Redbubble has partnered with various popular brands like Rick and Morty, Adventure Time, and others so you can design and sell fan art!
Once you get your first customer, Redbubble sends the order to one of their third-party printers and they get started. The manufacturer chosen is based on your customer's location: the order is received by the closest facility to them.
Redbubble Reviews
Artists enjoy Redbubble for its easy store set-up and access to their existing customer base. Redbubble works as a retail experience, meaning that your product gets integrated with thousands of others for the customer to browse through.
Redbubble seller reviews tell us it's a good service if you don't have much time, and don't want to deal with the technical side of eCommerce. Similarly, it's a good platform for those looking to make fan art. But let's look a bit deeper into selling on Redbubble.
Designing on Redbubble
You can choose from over 60 different products to design at Redbubble. After you've set up your store, you can upload your first design. Redbubble accepts JPEG, PNG and GIF files in the sRGB colour space. This will generate all 60+ products with your design and allow you to enable or disable each one.
For clothing, Redbubble provides a rectangular area in the centre of the garment that can be designed. In addition, you can choose the fabric colour and size of the design within the parameters. You can opt to make a repeating design that fills the area as well. However, not all products have this feature.
Making Money on Redbubble
You can set up an online store through the Redbubble website. Your products get posted on your store and within the product's category, alongside thousands of other artist's products. After that, if your product gets chosen to buy, the order is sent to one of Redbubble's global network of 3rd party printers. Because of this, the order can 'sometimes come in different packages and arrive on different days', according to their website.
Redbubble's Profit Model
Artists making money on Redbubble earn an average margin of 17% of the retail price; artists can earn anywhere between 10-30% depending on what they set as their markup. Redbubble gives this model for pricing:

Base Price
The base price covers Redbubble's service fee and the cost of manufacturing. This varies based on the delivery address, taking into account local production, material costs, and taxes relative to various artists' production and delivery countries. In other words, the total price is dependant on the delivery address.
Artist Margin
Next, there's the artist margin. This shows how much you make from a sale. The markup is the percentage of the base price, and the margin is the actual monetary amount. This defaults to 20%. However, as their website states, artists make an average margin of 17%. Redbubble gives this model for the artist's margin:

Retail Price
After that, the retail price: the sum of the base price & artist margin. They give this example (their entire help section is in USD) to understand how making money on Redbubble works:
Large framed art prints going to the US have a base price of US$125.00.
You set a 20% markup for large framed art prints. 20% of the $125 base prices means you get an artist margin of $25.00.
$125 base price + $25 artist margin makes for $150 retail price.
Getting paid
Redbubble has a pay cycle that begins on the 15th of each month. In other words, you get paid your total earnings on that day. In addition to this, they have a payment threshold. It's a bit complicated, so here is Redbubble's explanation:
'As of May 2019, we are paying artists whose earnings have reached $20, €20, or £20 on the 15th of every month. If your earnings have not reached $20, they will accumulate until reaching $20 and you will be paid on the following payment cycle. If your earnings don't reach $20 you will be paid once per year in January, as long as you reach at least $2, €2, or £2'
Making money on Redbubble sounds good, but is there another option? Enter: Contrado.
What is Contrado?
Contrado is a print-on-demand service and online marketplace serving artists and customers worldwide. Like Redbubble, we offer a service for independent artists to design and sell products. However, we're a bit different.
Extensive Product Range
We've got over 450 products, including swimwear, bomber jackets, kimonos, dresses, skirts, yoga mats, leather bags & wallets, blankets, bedding, sunglasses, all sorts of art prints, and anything else you could imagine. We've also got over 100 fabrics to print on – if you're into that.
We start all our fabric-based products by printing the fabric. After that, we cut it to size and sew it together. This allows us to offer all clothing from XXS up to 7XL and create an all-over print on any item. In addition, you can customise in ways you never thought possible: choose the thread colour, the fabric and even add your brand's label. Seriously.
What makes us different?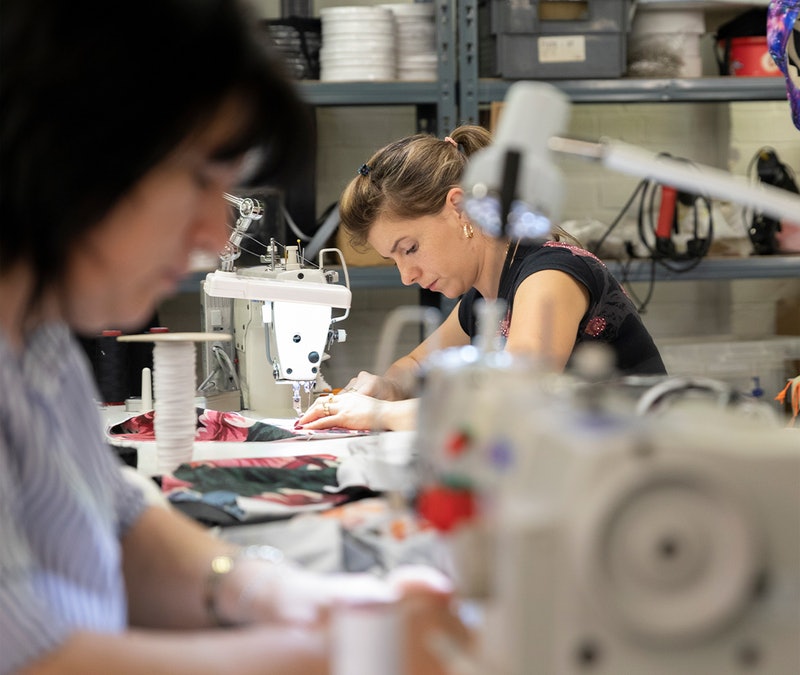 At Contrado, we're all about the process. That's why we make everything by hand in one facility. We cut down massively on our carbon footprint because nothing is sent from one place to another. Also, we know who makes your clothes. Personally. Get the full scoop on our sustainable practices here.
Making things from scratch allows a lot more imagination. In other words, when you're looking at a blank piece of fabric instead of a pre-made t-shirt, the possibilities are truly endless. Print a hoodie dress, a flouncy skirt, or even a onesie at Contrado. Wouldn't you want high-quality, fashionable products to match your stellar designs?
Designing at Contrado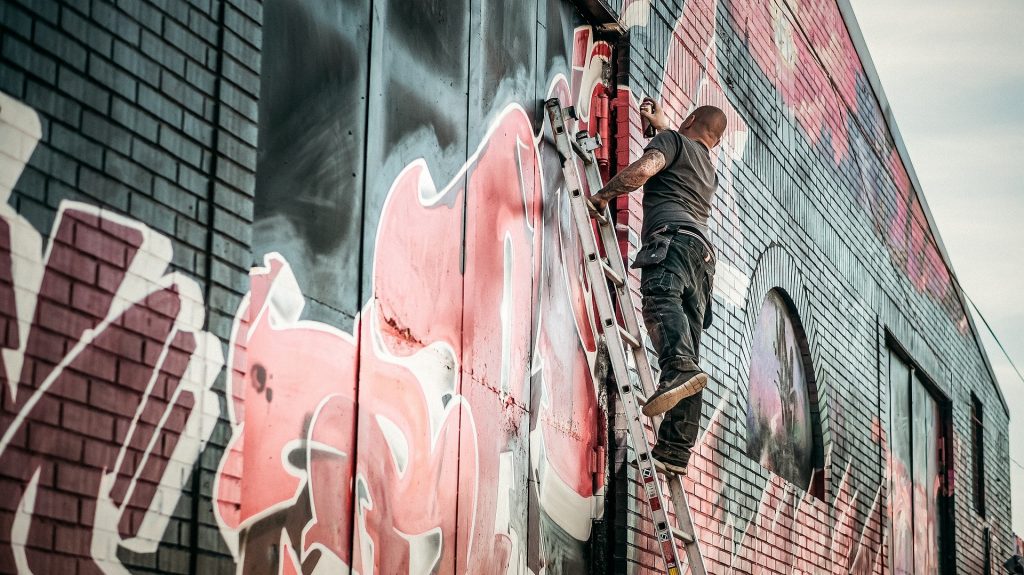 Let's dive deeper into the design process. You've got over 450 options to choose from. Complete design control. All-over prints. However, what can you do with your design? How can you actually ensure that it'll come out the way you've envisioned?
We contemplated this while coming up with our online design tool. You can choose every aspect of your product, from the type of the zip to the material and everything in between. In addition, there's space for the bleed area to ensure the best print possible. Tools like autofit, size, rotation, colours and pattern allow for complete customisation. Above all, your creativity doesn't need to end once the design is done.
Selling with Contrado
We offer you three different options for selling with Contrado:
1. Open an online store
You can easily open an online store and start selling from there. Our online storefront allows you to customise the banner, profile picture and biography of your store. You can even sort your products into collections or by type.
2. Buy wholesale
Looking to sell things in person? You can! We've got fantastic wholesale discounts for anyone looking to buy in bulk and sell physically. Let your customers really feel the quality of your products and watch their adoration for your designs in person! It's a win-win. Click here for more.
3. Drop-shipping
Or perhaps you're looking to integrate products into your Shopify store. Well, you can do that too, and it's super easy. Check out more information about dropshipping, or watch our dropshipping tutorial.
Making Money with Contrado
Making money with Contrado is super straightforward. For instance, let's say you open a Contrado store, design a framed art print, and want to list it for sale. We pay artists based on commission, and you can make anywhere from 20-60% of the product's retail price. In the pricing tab of your product options, we have a sliding scale tool that automatically calculates your profit based on the price set:
In the example above, you would make 33% of the product's retail price, resulting in a AU$23 commission in your pocket – nice!
How does Contrado pay you?
If you opt for an online store, here's how the payments go: We pay our artists via PayPal. You get paid within two weeks of every successful delivery to your customer. In other words, once your customer gets their masterpiece, your commission is on the way.
In addition, with a turnaround time of two days for most products, along with speedy delivery times, you'll have cash in your pocket in no time. No waiting, no thresholds, no funny business.
What's the verdict?
Well, both Contrado and Redbubble are great printing services with different specialities. Above all, if you're a digital designer looking to build your brand and start a successful online store, Contrado is the perfect place to launch.
What are you waiting for? Apply to be a #ContradoCreative today!