If you are an artist or lover of art like we are, then we know you are always looking for unique and influential artists to follow on Instagram. Being one of the most popular forms of social media, the app can be quite saturated. So we've compiled a list of successful Instagram artists to get you inspired.
We know that everyone's definition of success is different, but we see it as those who have been bold enough to do what they love and share it with the world. These artists are successful as they are brave enough to share their creations.
Charlotte Edey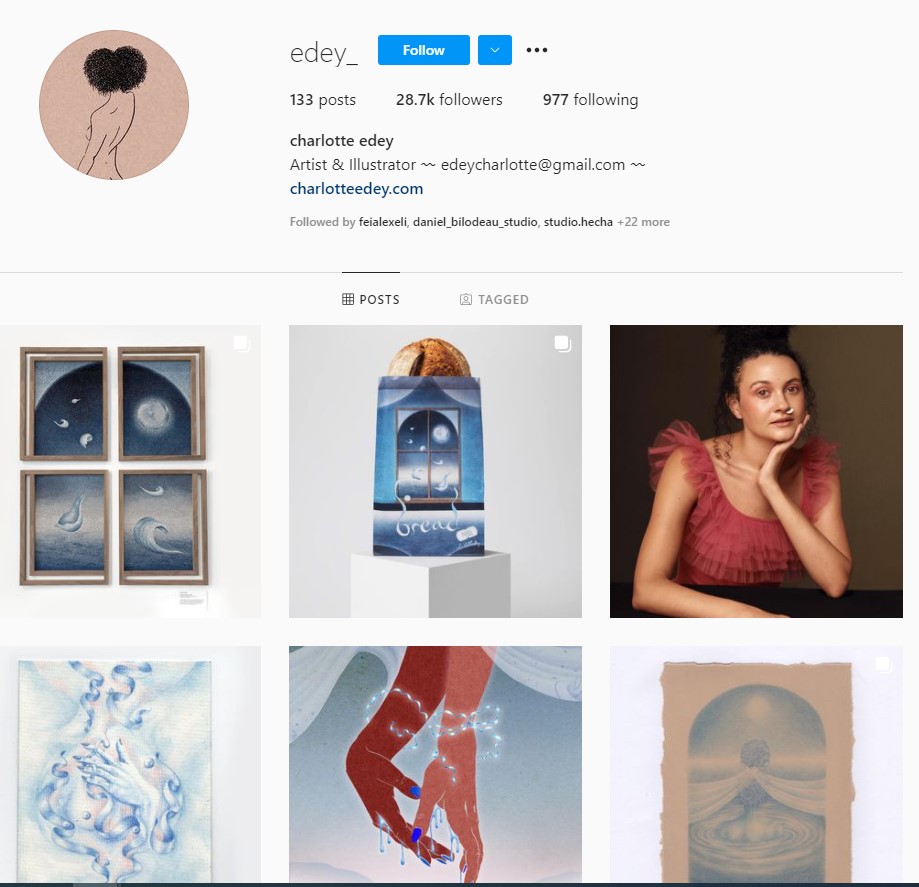 Charlotte is a British artist and illustrator who works with print, textiles and even embroidery. Charlotte's work explores the intersections of identity and the spiritual. Her artwork has been displayed in a few group shows across multiple locations, including one at the Design Museum in London. Her work has been featured by many big names such as Vanity Fair, Forbes and The Evening Standard.
Nikkolas Smith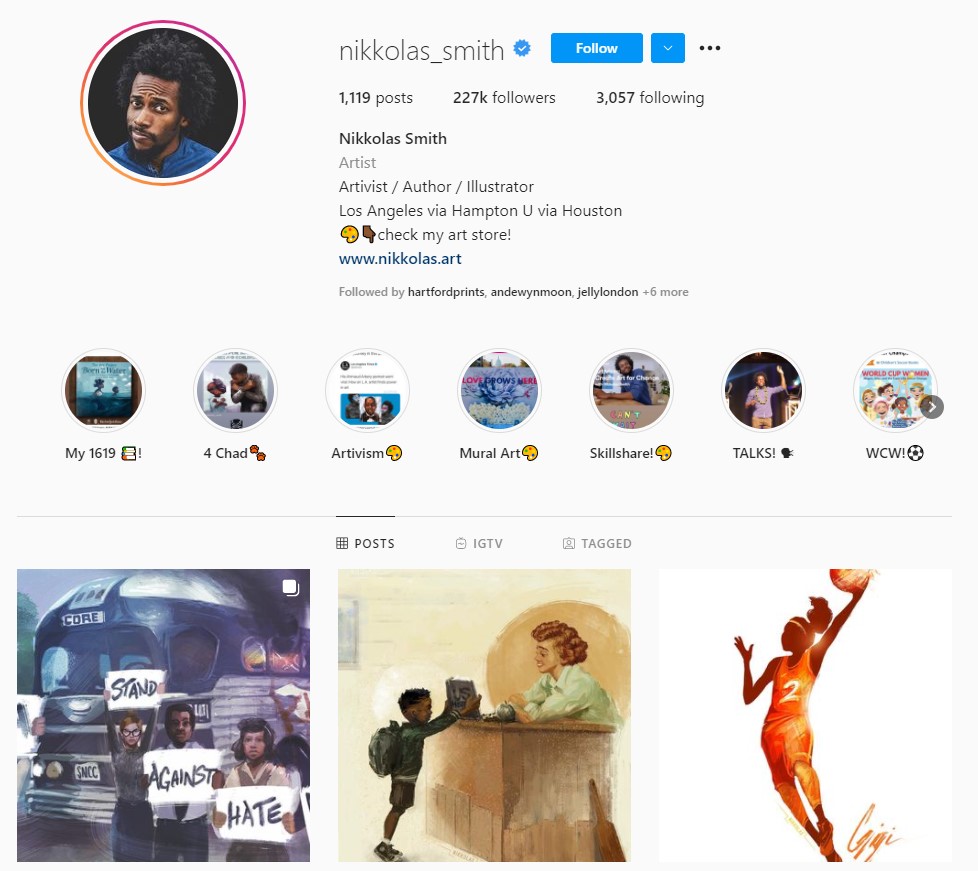 Nikkolas is a man of many talents, one of those talents being an incredible artist. His main focus is creating captivating and moving works of art that provoke conversations. He focuses greatly on current events and topics in order to inspire meaningful change. Nikkolas makes art from the heart so it's no surprise that he has become so popular. His work has been featured in The New York Times, The Guardian, ABC and many more. His art has even been shared by the likes of celebrities like Kendrick Lamar and Jamie Foxx.
Chiharu Shiota
Born in Japan and living in Berlin, Chiharu creates breathtaking art displays. Best known for her large scale thread installations, she confronts big topics like life, death, and relationships. She explores human existence in a unique and wonderful way. Chiharu uses hundreds of kilometres of yarn, filling gallery rooms with matted webs. She says that she uses "thread to represent the relationship between people". Not only has she been successful on Instagram but she also received the Art Encouragement Prize from the Japanese Minister of Education.
Sari Shryack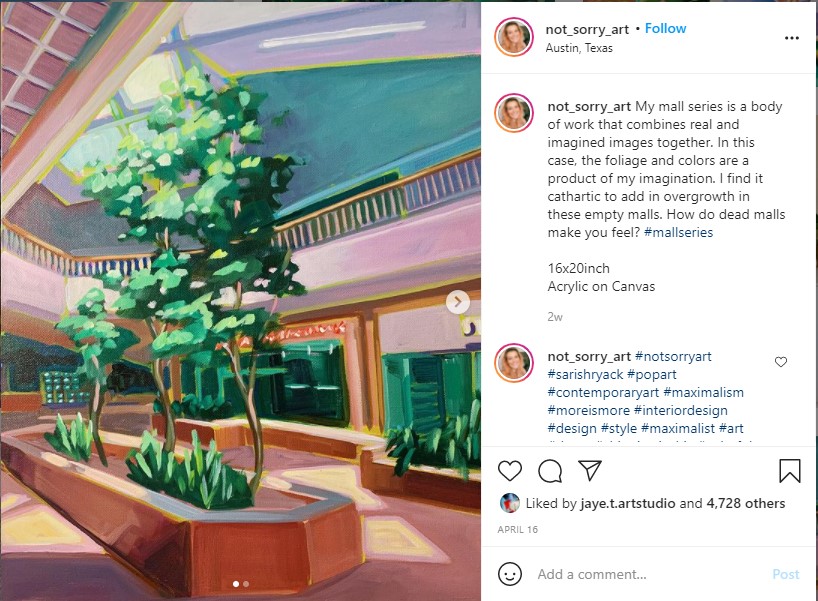 An Austin based painter who created the Instagram page @not_sorry_art. Sari creates a variety of paintings that are vibrant in colour, detail and depth. She is trained in acrylics and has a BA in fine art. As a mother, she finds the time to make art and shares it with her followers on Instagram. She is influenced by adult cartoons such as The Simpsons and what she sees when out and about in nature. Childhood trauma and therapy have also had a huge influence on her work.
Julia Powell
Powell started her Instagram back in 2016, growing her platform over the years. She sells her artwork through the platform for figures between $500 and $11,000, receiving enquiries daily. Her enquiries come through DMs as well as the galleries she is partnered with. She works between 5 to 9 hours per day on her art.
Julia is the perfect example of how even the best artists on Instagram had to start somewhere. It is never too late to grow your Instagram presence and sell your wonderful artwork.
Marilyne Verschueren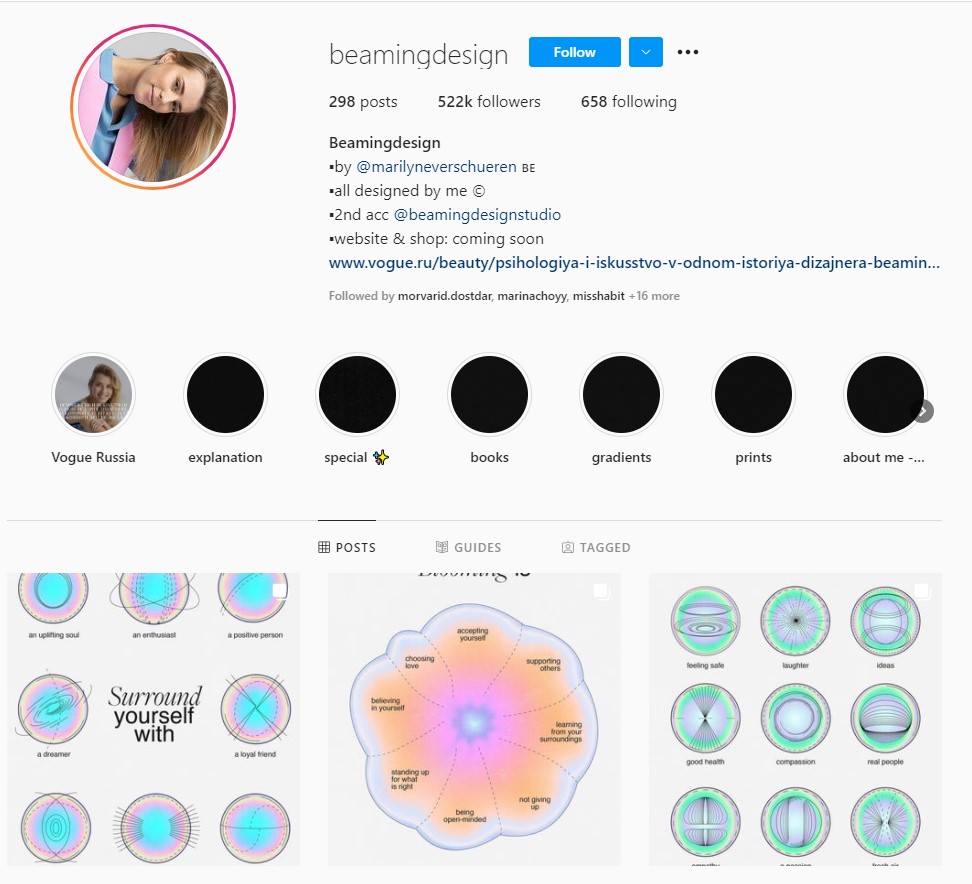 Better known as @beamingdesign on Instagram, Marilyne produces incredibly uplifting and spiritual prints. She creates gorgeous print designs in multiple colourways. She has said that she simply wants to share the images she has in her brain, the feelings she has, and the colours that communicate her message. It is her interpretation of the words and meanings she wants to get across. She produces her prints in multiple colourways as she believes that everyone will find a colour that resonates with them. Art is a personal thing and different colours speak to different people. She wants the audience to feel the shapes, lines and colours and to make each piece their own. Featured in Vogue Russia and followed by the likes of Kendall Jenner, her Instagram page has really blown up.
Abby Chaidash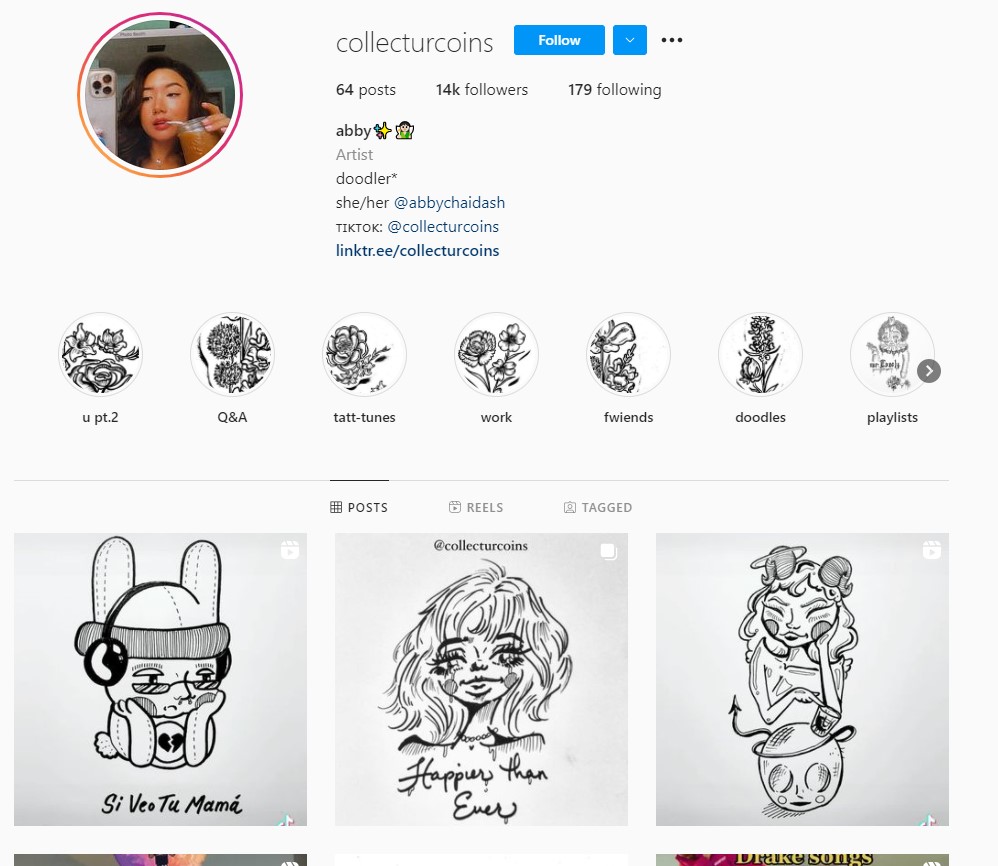 Known as @collecturcoins, Abby creates wonderful drawings that she sells as tattoo designs. She describes her work as designs she "created with some earphones and run-down markers". But if you've seen her work it is anything but ordinary. Her "doodles" are unique, using thick lines and modern pop culture as inspiration. The detail and meaning injected into her designs are reflective of Abby as a person and her emotions.
Emeline Tate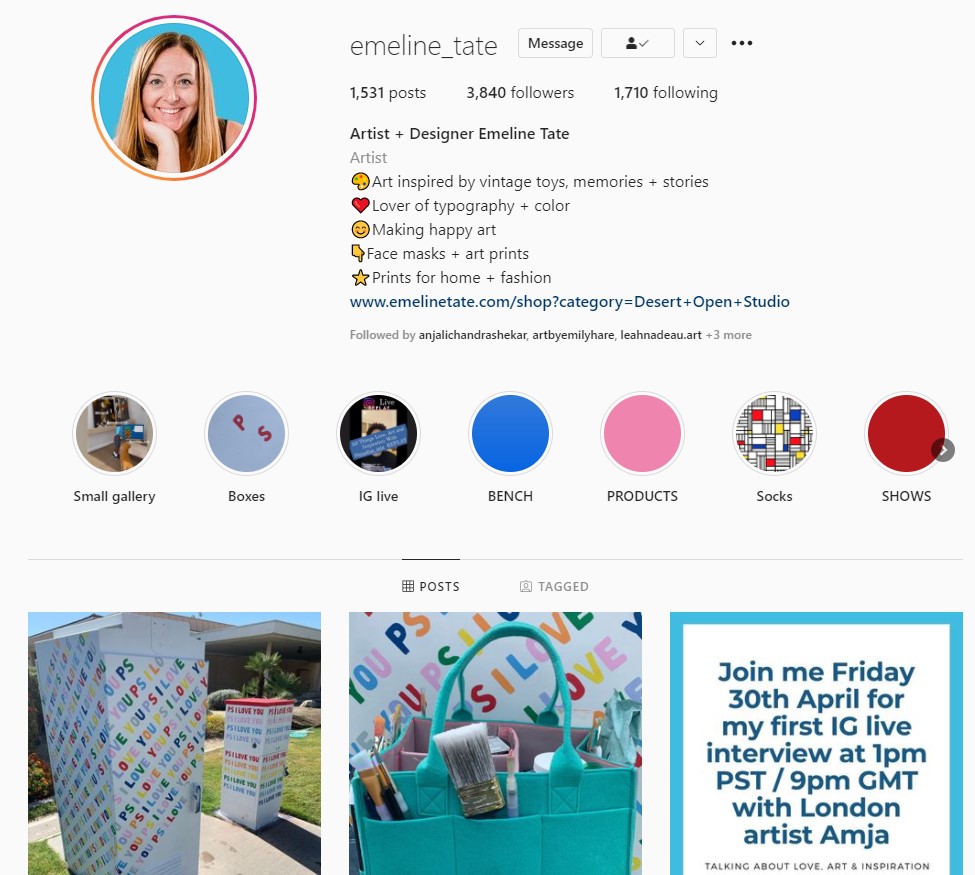 Emeline is a British artist who has been producing art for over 20 years now. What started as a creative outlet and the need to fill her home with uplifting pieces of art soon became sought after designs and prints. Emeline discovered that it was rewarding to see her very own art on products. And not only that but people liked them enough to buy them. Emeline even decided to partner with us at Contrado to sell her whimsical designs.
So if you want to start selling your work like these successful Instagram artists then why not sell with Contrado? At Contrado you can sell your designs quickly and easily. Simply head to our website and choose from over 450 products to add your designs and sell. From canvas prints to premium leather handbags, you can rely on us to create high-quality products that beautifully display your masterpieces. Click the banner and start selling today!