Drop-shipping is the new word on everybody's lips at the moment, but what is drop-shipping? What does it mean? How does it work? Maybe you have either a small business or a huge idea, and someone dropped the phrase into a conversation and you want to get to the bottom of it. That's what we're here for.
What is drop-shipping?
If you take all the bells and whistles away, drop-shipping is a business model. But, it's the bells and whistles that make it, so we want to explore those a little deeper. The dropship business model means that you can make a name for yourself with minimal risk, little to no initial outlay and nothing but talent and big ideas. That's the magic of it, it makes something that once seemed like a distant and unobtainable fanciful dream, well, attainable. It brings it within your reach. Sounds great right?
To clarify, this is not a get rich quick scheme. There are no Del Boy "this time next year, Rodders, we'll be millionaires" cheats here. If you want drop-shipping to work, then you have to work for it. That being said, it does make everything a little bit easier, more achievable. It also allows you to get started much more quickly than you would be able to with either a bricks-and-mortar store or a more traditional e-commerce business model.
How does drop-shipping work?
So at this point, you might be wondering what the main differences between drop-shipping and a more traditional business model are. The biggest difference here is the stock. The classic starting-your-own-business method uses a similar structure to having a physical shop. You create your design, order a couple of samples, and when you've found a supplier and a product you're happy with it starts getting tricky. You then need to bulk order a large quantity of the product, to 'fill your shelves' as it were. Often, the more you order in one go, the lower the cost-per-unit becomes. This is not ideal. We'll cover that in a little more detail below. Drop-shipping is different. We'd go so far as to say it's revolutionary.
Drop-shipping cuts out the filling of your hypothetical shelves. Your customers place the order with you, and only after that has happened, do you place your order with us. It's a very simple process with minimal steps. The major difference is that the order has changed. Rather than design>order>sell, you end up with design>sell>order. There are multiple benefits to doing things this way round.
Your 7 Benefits
1. It's more eco-friendly
Yep, we went there. Eco-friendly, environmentally conscious, going green. Literally everyone is talking about it. Why should we be any different? Believe it or not, there are multiple ways in which drop-shipping is more sustainable than old-fashioned methods. From the fact that we print-on-demand to the responsibly sourced materials that we use, it's better for the environment all-round.
2. It's low risk
This is one of the major players in the benefits-of-drop-shipping league. You don't need to bulk-buy a bunch of sizes, colours or otherwise hoping that they will sell through and prove a sound investment. You can make changes, offer that black or white jacket in an all-new shade of grey. If it flops, then all it took was your time. Nothing ventured, nothing gained.
3. There's a huge range
We're not kidding here, we mean huge. From a huge catalogue of high-quality products to a huge number of options on products. You can put your designs on any number of products from t-shirts and leggings to bedding and purses. Whatever piques your interest – whether that be fabrics or fashion, handbags or homeware – we have something for you.
Not only can you choose from over 450 products, but you can also choose from thousands of different options too. Choose the neckline and sleeve length of your tops, choose the fabric for your cushions. Not only for the cover but the padding too. When you decide to put your designs on products with us, you can fine-tune the details down to the shape of the pendant on the end of your zips to the colour of the thread used for your stitching.
4. It's easy to use
From the easy syncing of your Contrado and Shopify stores to the super-intuitive design interface, we've tried and tested everything at great length to make sure that it's as easy as possible for you.
We've put together a drop-shipping FAQ to answer the most common questions, and we have a customer service team on hand to answer any questions that either you or your customers might have.
5. You've got options
We don't just mean product options here either. We've covered that one already. You can choose whether you want to take the private labelling route and create your own brand. Make a name for yourself and hopefully become recognisable from a glance at a logo in the street. If you don't fancy that you can take the white labelling route. Opt for a non-branded design. It's your dropshipping business after all.
6. You can make money doing what you love
As we said earlier, this isn't a 'Trotter's get rich quick scheme', but it is a way that you can build your own empire, doing what you love. What's more, it's a profit that you can see from the very first order.
Your customers place the order through your Shopify store. They pay you. Shopify notifies us of the order, and we generate this on our systems. We'll send you a request for payment, which includes an exclusive wholesale discount. You pay us the discounted drop-shipper price, and we'll start making the order. The profit never leaves you, so you literally start making money from the very first order that is placed.
7. You can branch out
Most of our orders are ready to ship in just 48 hours. So we can offer super fast turnaround times. Not only that, but we also ship worldwide too. This means that you can branch out internationally.
In summary – The benefits of drop-shipping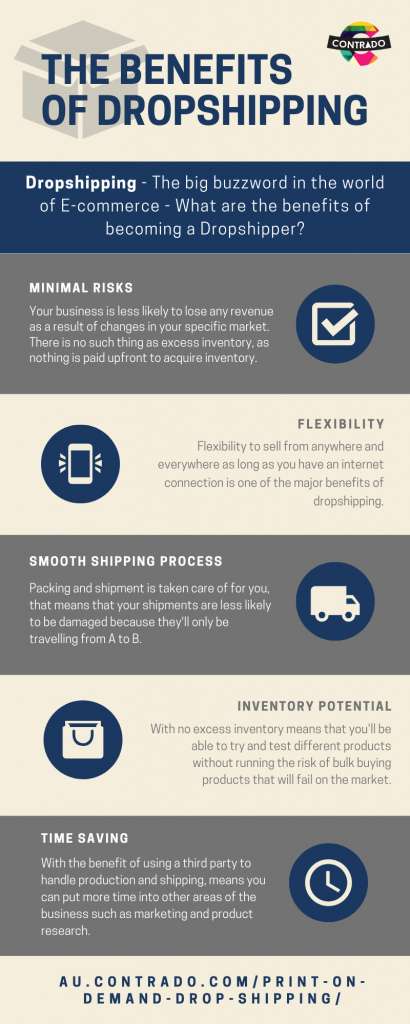 Now you know what drop-shipping is, it's time to get started
That's right. We can only do so much. So now you know the ins and outs of drop-shipping, what it is and how it works, it's down to you to decide the next part – what are you going to call your store? Click below to get started and set up your Contrado drop-shipping account.