With the Oscars fast-approaching you're bound to see some fabulous outfits hitting the red carpet. Stunning gowns, dapper suits and glamour from head to toe. Even if you're not one of the lucky ones with an invite to the most prestigious award show in town, you can still look the part with the perfect suit. Discover 6 of the best fabrics for suits on the red carpet with our extensive guide below.
Why Make Your Own Suit?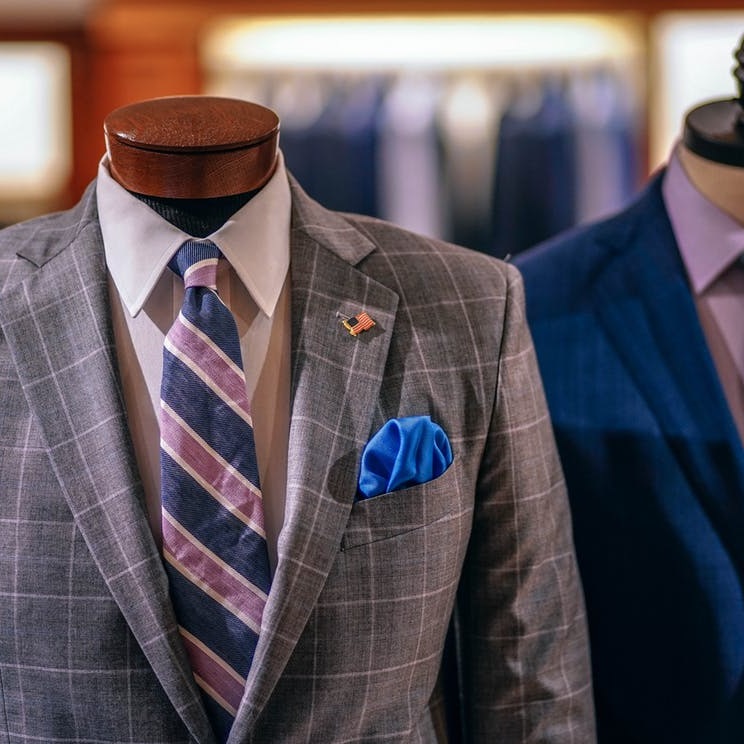 Suit buying can be one of the most stressful shopping experiences. Although the design might look perfect on the hanger, sometimes it just isn't right on. Maybe the length is too long or too short, perhaps the fabric isn't comfortable or maybe the colours are just not your thing. Getting that perfect, dream suit can sometimes seem completely out of reach – which is why designing and making your own suit might be the perfect option. You have complete control over the fabric, colour, style and fit of the suit, so why not make it one to remember?
Best Fabrics for Making Suits
We've hand-picked the top 6 fabrics for creating that perfect suit, and get heads turning in all the right ways. It's important to consider the breathability of the fabric depending on the time of year you'll wear it; no one wants to be sweating through a high-quality suit in the height of Summer. Also take the softness of your fabric into consideration. wants to be irritated all over by itchy suit trousers or feel like a robot in a super stiff outfit. Read our guide below to explore the best fabric for your needs, and make sure to carefully consider the final look and feel of your suit when taking your pick.
1. Wool
An endlessly versatile fabric, wool paves the way in suit fabric popularity. Being suitable for both mid-day heat and colder evenings, it's ideal if you're searching for that one year-round perfect piece which can be used for everything from job interviews to parties. The refined look will give you that ultimate 'classic' suit appeal, whilst being both soft and wrinkle free to remain smart throughout the day. If you prefer slimmer fitting suits, wool may be one to avoid as it can be slightly bulky in appearance.
Top Qualities:
Breathable
Warm
Wrinkle-free
Soft
2. Cotton
If you're after a slightly more casual vibe with your suit, cotton is your best bet – especially if you'll be wearing it during the Summer months. Not as warm as wool, cotton is another lightweight option for the season with maximum breathability. Cotton is also king for comfort, and is a popular choice if you like natural fabrics. One of the best things about cotton suit fabric is that it comes in different weights, so you can choose a weight that will suit the purpose. Choose a heavier weight cotton or a blend for work, which helps the fabric keep its silhouette.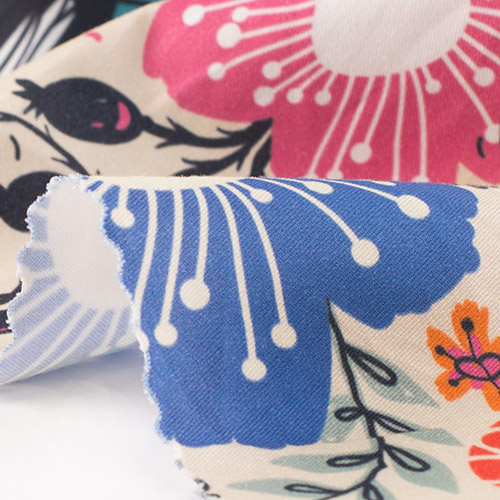 Top Qualities:
Can be worn year round
Breathable
Comfortable
Classic style
Our Choice:
This breathable cotton twill stretch is ideal for a skinny fit suit for slimmer builds, and can be worn all year round. With a very high thread count it is soft and light to the touch, and comfortable against the skin. A creamy, muted white base tone will add a natural edge to your designs.
3. Linen
Linen is your number one Summer option. As the lightest, most breathable fabric choice for suits it's perfect for a classic sunny garden party or a Spring-time wedding. Just beware of its easily wrinkled nature – no fabric wrinkles quite as easily as linen, however it's part of the package and is a little stylish when gently creased up. Linen suits are ideal for a more casual look, but can easily be dressed up when worn in darker colours.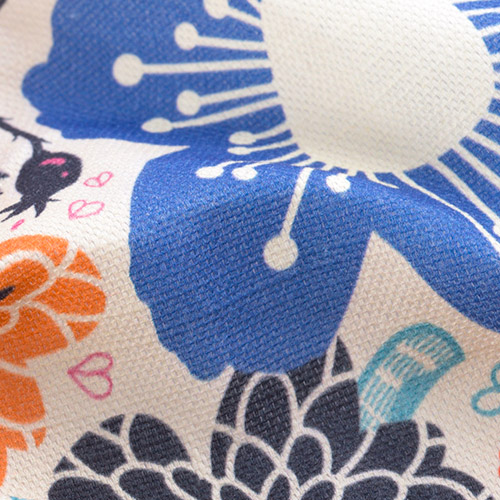 Top Qualities:
Very light and breathable
Comfortable against the skin
More casual option
Our choice:
This 100% linen fabric is perfect if you're looking for an all-natural, lightweight option. The real linen flax gives the fabric an ash-white base tone which gives your custom designs some extra character and a rustic element, perfect for a breezy Summer suit. For some added weight, try a slightly heavier Dorchester weave or Haverstock linen.
4. Silk
Silk is one of the pricier options for suit buying, but for that red-carpet wow-factor you couldn't get a better choice. The luxury, superior comfort of all-natural silk means that your suit will be a dream to wear and will ooze elegance. Silk is also breathable, helping retain heat in the warmth and expelling it in cooler weather, making it ideal for year-round wearing.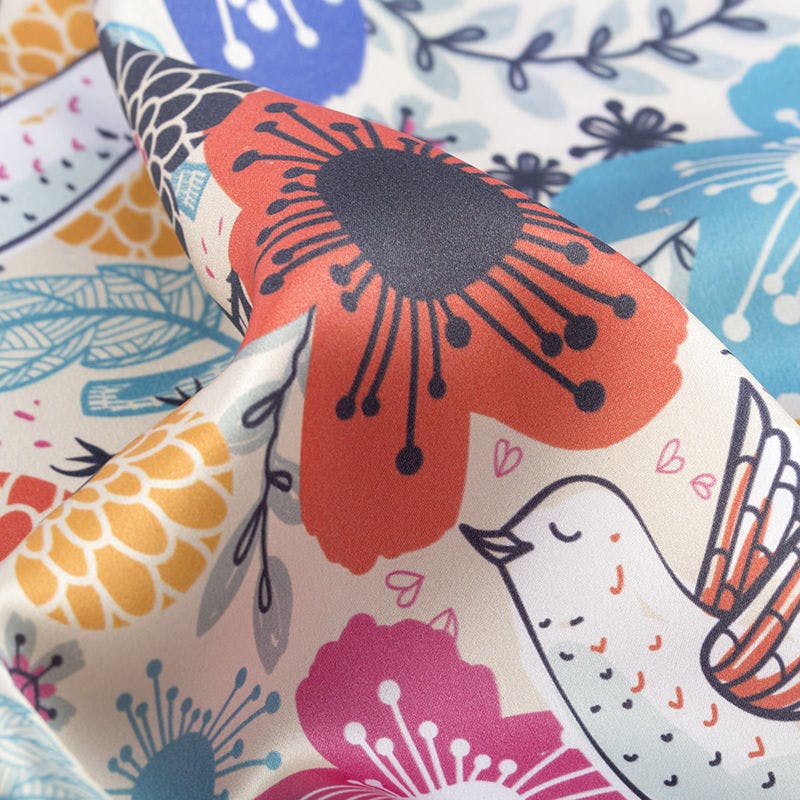 Top Qualities:
Luxurious
Super comfortable
Breathable
Regulates temperature
Our Choice:
Nothing beats this 100% genuine, natural silk fabric. This material is made of a satin weave, with an organzine warp, using crepe twist yarn and stands up well to everyday wear and tear. The delicate and soft finish of the silk makes it a super comfortable suit, with a light, soft feel against the skin.
5. Velvet
A velvet suit is king of the show in terms of the dazzle-factor, making it perfect for any glamorous events, parties, or awards ceremony if you're lucky enough to attend one. Velvet is not only sumptuous to the touch, but is durable and breathable too, making it an all-round winner. Because velvet is often blended with nylon, it is not quite a breathable as silk but is somewhat thicker. This fabric is perfect as a dinner jacket when worn with jeans, or as a full velvet suit for a classy event – but probably best to leave this one away from the office.
Top Qualities:
Luxurious to touch
Breathable
Elegant quality
Warm
Our Choice: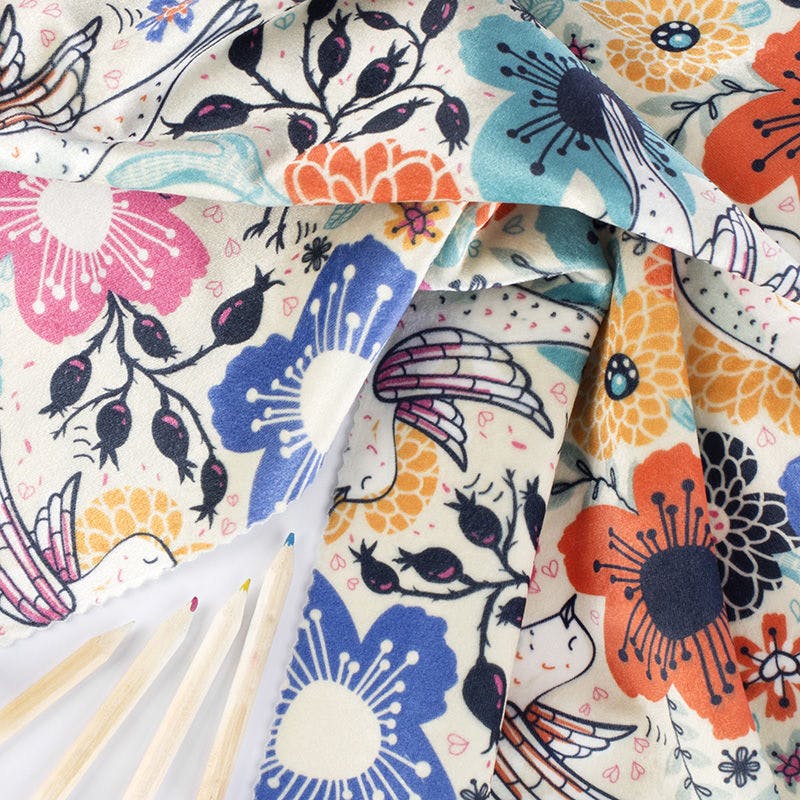 This beautiful velvet shimmer fabric is slightly stiffer than standard velvet, whilst still retaining super soft and luxurious qualities. The firmer fabric means it holds its shape well, making it ideal for creating a dazzling suit. Images printed on the shimmer velvet look extra impressive with the added sheen and glitz.
6. Cashmere
A pure cashmere suit is incredibly luxurious and comfortable but can come with a slight shine to it. This may not be what you're after for the workplace, but for parties or formal events it can make a great statement. A cashmere and wool blend may be an even better option, as the cashmere provides warmth and softness while the wool gives the elasticity and body that a suit requires.
Suit Jackets
If you want to rock a more casual outfit, try designing some fabric for a simple dinner or boating jacket which can be worn with jeans or other trousers to dress the look up. Bull denim, half-Panama or dobby canvas are perfect for this, providing a sturdy base which will showcase your designs beautifully. These breathable fabrics will keep you warm without added weight and add some serious style to any look.
Check out our collection of suit fabrics to design the perfect suit for you. Our swatch packs give you an insight into the texture and quality of every fabric, so you can choose the best one for your printed suit.