When it comes to the best fabrics for lingerie, it will all depend on your….desired usage, if you know what I mean. From sexy babydolls to the more practical slips for defining your shape, lingerie can be worn alone or as underwear. Making your own lingerie is an empowering sewing project, especially as you get to make something perfectly fitted to your unique figure. When you have the best fabrics for lingerie, the right pattern and your own custom printed fabric, your underwear game just got a whole lot more exciting.
Why Make Your Own Lingerie?
Sometimes, you think you've found the ultimate bra and knickers set. They seem like everything you want from underwear, but when you're in the changing rooms, it's just not right. Maybe the cup is slightly too big, the nightie you thought was perfect hugs your hips a little bit more than you'd like, or the fabric feels irritable on your skin. At the end of the day, we want to feel beautiful and comfortable, and high street shops can't always strike that balance. When you make your own lingerie garments, you're in complete control of the look and feel, creating something that is made especially for you.
The best fabrics for lingerie can range from floaty, luxurious fabrics such as Lucent Satin, Organza and Florence Net, to the more practical and cosy fabrics like Mulmul, Cotton Satin and Jersey. All of which are going to feel delicate and smooth against your skin, draping where they ought to drape and fitting your form how they should.
Choosing your lingerie fabrics will all depend on what you're making. Here's a few staples every woman should have in her lingerie repertoire:
Classic Slip – figure hugging dresses can be revealing, but with a classic slip underneath you can achieve that flawless silhouette and definition in your shape.
Babydoll – Granted, the babydoll is way too fussy and fancy to wear underneath clothing, but we all know it's not really for that. Sexy with a flattering cut, it adds excitement to your evening routine.
Romper Suit – Now we've got the balance between flirty and comfortable. The playsuit style romper is the perfect compromise if you want to feel glam but also just want to chill out.
Lace Bodysuit – The versatile lace bodysuit is a must. Not only can you wear alone and feel like an absolute goddess, but you can also team with a pair of jeans for a demure evening outfit.
Robe – When you step out of the shower, you should be stepping into a gorgeously soft and comfortable robe. Whether it's made from a sultry silk satin or a warming jersey knit, it's a lingerie essential.
Best Fabrics for Lingerie
The following fabrics are for both the body of your lingerie and also trimmings, applique and other decorative touches you want to add. Remember to consider your fabric very carefully, to ensure that it is the right one for your perfect lingerie garment.
Lucent Satin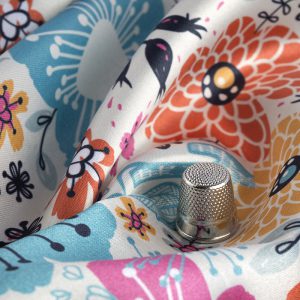 Lucent Satin is a beautifully light, soft and shimmery fabric that is ideal for making babydolls and flirty nighties. The high lustre face catches the light, making it perfect for intensifying those intimate evening moments. Weighing 120gsm, it's cool to touch and effortlessly slips over your skin, feeling delicate and graceful.
Double faced sateen
Shimmery face
Elegant drape
Lightweight and fluid
Soft and shiny
Silk Impression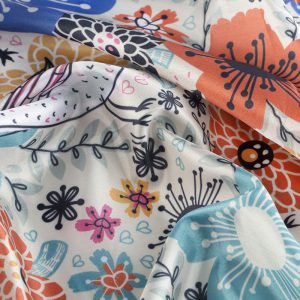 Silk Impression is a demure fabric that's perfect for lingerie making as it's both incredibly lightweight (80gsm) and durable. It almost feels weightless, effortlessly gliding over your skin without any friction. The front and back textures are the same, being soft, silky and cool to the touch. It has a shimmery face and is semi-translucent, producing an elegant, slightly faded print. It's one of the best fabrics for lingerie items such as nighties and babydolls, due to the glamorous silk appearance.
Shimmery face
Silky and cool to touch
Holds shape well
Super lightweight
Semi-transparent
Cotton Satin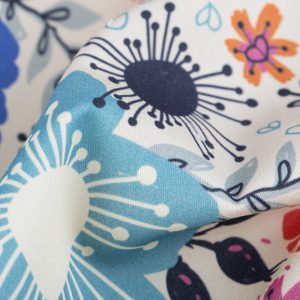 Cotton Satin is 100% natural, so is incredibly soft to touch. Even though it has a matt finish, the face is smooth and feels a delight against the skin. It drapes elegantly, and would be ideal to make a classy chemise or cute pyjama set. Natural cotton is always a beautiful fabric to wear, thanks to the breathable properties and cool touch.
100% real cotton
Smooth handle
Soft to touch
Reflects & absorbs light
Close weave
Mulmul Soft Muslin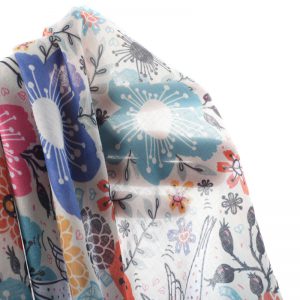 Not every fabric used for lingerie needs to be sexy and glam, but the mulmul muslin is sultry in its own unique way. The sheer-like quality and semi-transparency make it perfect for a 'barely there' chemise or nightdress. It's incredibly soft, and has an almost brushed surface, making it a delight to wear of an evening.
Net-like open weave
Light and transparent
Soft and loose
Rustic aesthetic
Strong and durable
Jersey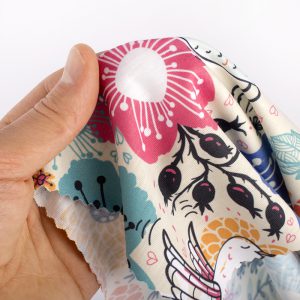 The springy, stretchy nature of Jersey make it an ideal fabric for creating supportive garments such as panties or slips. Not only this but because it moves with the body it's ideal as ordinary comfort loungewear. There's many different weights to choose from, depending on your desired usage. Jerseys are knitted, providing warmth and a cosy softness you wouldn't get from Lycra. Fabrics for lingerie are so versatile, so you could even use a jersey to make a gathered babydoll or lightweight robe.
Stretchy with good recovery
Breathable
Slight absorbency
Quick drying
Crease resistant
Princess Lace Satin
Make your own shapely lace bodysuit using Princess Lace Satin. Then knitted lace front is backed with an elegant silvery satin, creating drama, texture and sensuality. There's a slight stretch so it can move with you whilst still keeping the shape and definition. It's a totally feminine fabric that flaunts your figure and shows off curves.
Lace front, satin back
Textured and elegant
Holds shape well
Allows some give
Luxury handle
Organza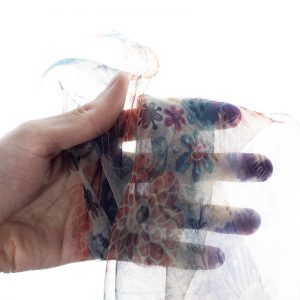 Sheer and transparent with a touch of sparkle, Organza is a beautiful fabric to use to add decorative notes to your lingerie. Add shaped motifs that subtly catch the light, or why not add a petticoat layer to your babydoll? Organza is sheer with an ethereal aesthetic, making it a perfect fabric for lingerie. It can bring a slight firmness without adding any weight, ideal for under garments.
Sheer, floaty drape
Net-like construction
Hint of sparkle
Transparent
Smooth and soft all over
Florence Net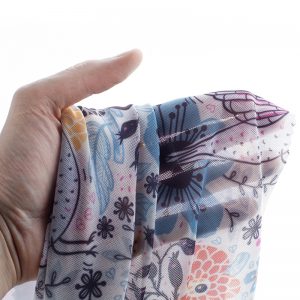 Fine and fragile looking Florence Net might be but it's anything from the truth. This power net fabric is super strong and durable. With a 4 way stretch, there's so much movement making it perfect for making knickers. Finished with a lace trim to add support and structure, Florence Net knickers are so weightless and comfortable. Transparent and breathable, it's perfectly suited to lingerie. Totally fluid, slipping over your body like water, you won't even know you're wearing them. You could also make a chemise or underlay for other lingerie garments.
Super stretchy
Transparent with fluid drape
Lightweight and breathable
Gentle on the skin
Non-fray knitted net
Feeling inspired to make your own lingerie? Then make sure you make something totally unique and customised to you and your style. Design your own lingerie fabric for a bespoke bedroom experience and feel gorgeous in your very own handmade undergarments. This is only a handful of our selection, so click on the banner below and discover the full range.