Whether you're an artist or an art lover, visualizing a piece of art on a wall can be difficult. Sometimes you're not sure how your art will translate in different styles of rooms, or you can't figure out if the print you're eyeing up has the right colour scheme to tie your room together. Luckily it's the 21st century and there's an app for that. That's right, you can download a display art on wall app to see exactly how a piece of art will look in any room.
Of course, not all free wall art visualizer apps are the same. We've sifted through all the apps and have created a list so that you can find the best display art on wall app for you.
1. WallApp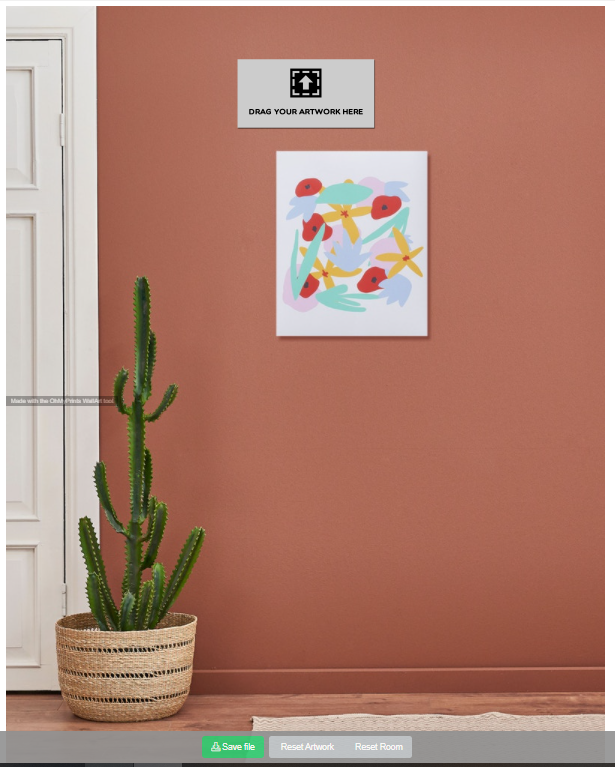 WallApp is well-known for good reasons: it's free and allows you to upload a photo of your room and a piece of artwork to display. While other apps will only let you add art pieces to existing photos of rooms, WallApp enables you to use your own walls. From there, you can move the art piece around and see exactly how it'll look in your home.
WallApp works right in your browser, so you don't even have to download an app to use it. If you're looking for an easy wall art visualizer, this is the perfect place to start.
2. Wallary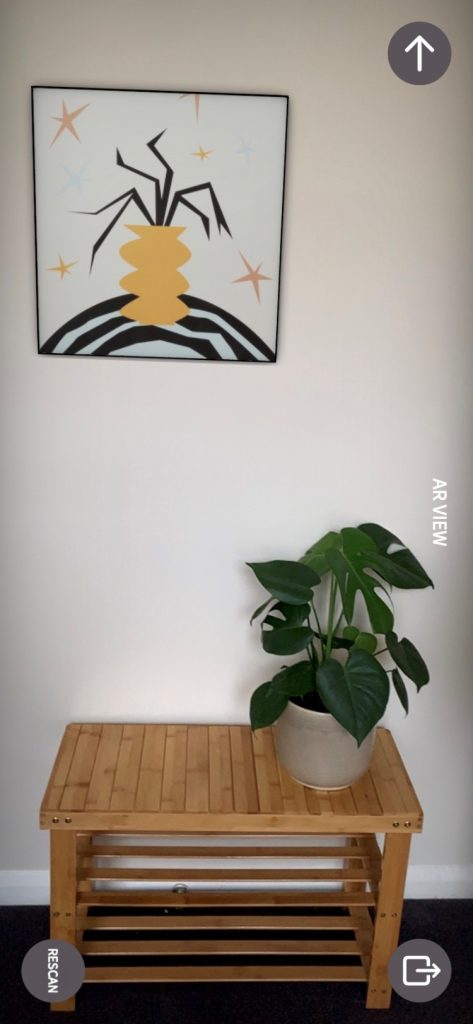 For a next-level wall art visualizer, Wallary is just that. It uses augmented reality to visualize the photo on your wall in real-time. You can upload your art and Wallary will prompt you to scan your room. And voila! You can move your camera around to see the art from different angles, and your phone screen will display your room as if it already has the art hanging on the wall.
The downside to Wallary is that it's only available on the Apple app store. So Apple users can rejoice, but we have more preview art on wall app suggestions for those using other operating systems.
3. Artrooms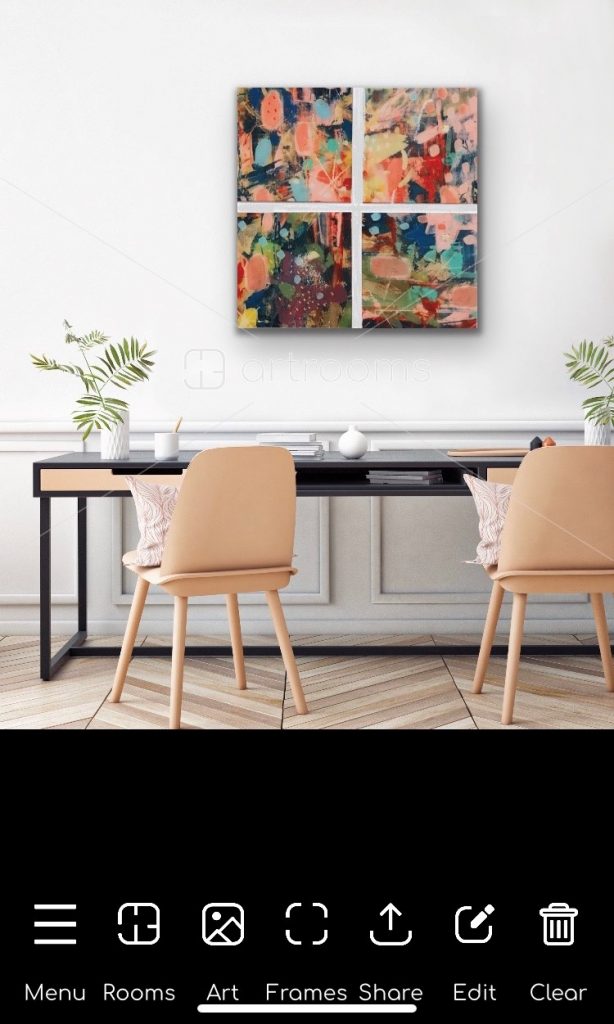 If you don't need to visualize the art on your own wall, then Artrooms is a great display art on wall app. This is ideal for artists to see how their pieces will look in different interiors, and the images you create can be used to promote your art. The best feature is that you can display multiple pieces of art on the wall at once. So if you have a multi-panel creation, you'll be able to see how everything fits on the wall together.
To get the most out of Artrooms, you can upgrade with a subscription. The subscription enables you to upload a photo of your own room as well.
4. Voun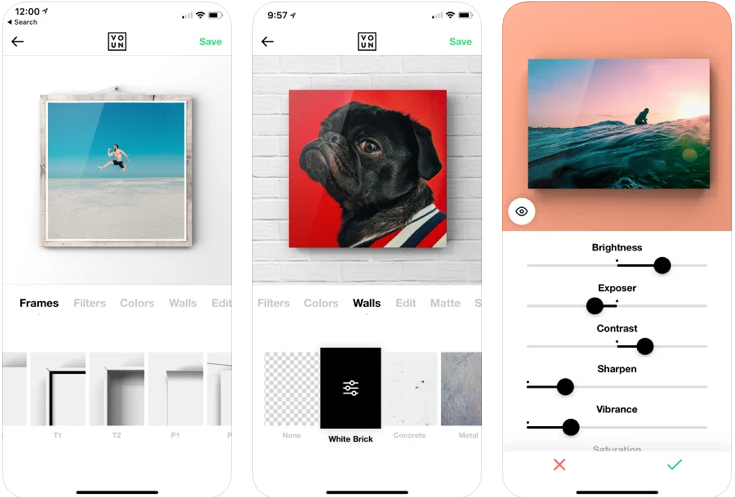 For the artists out there, Voun has it all. This app's main feature is framing. You can choose frames in different materials, finishes, and colours to see how they'll complement your art. After choosing your frame, you can see what it will look like on different types of walls, like brick or concrete. The app has a built-in photo editor to toggle shadows, contrast, and more. An additional feature we love is that you can add your signature to your piece.
The downside to Voun is that you can only see the art on a small section of the wall. That means it's not the type of wall art visualizer that will let you see how the art looks with your sofa and other décor. However, this is a great tool for artists to keep the spotlight on their work.
5. Instagram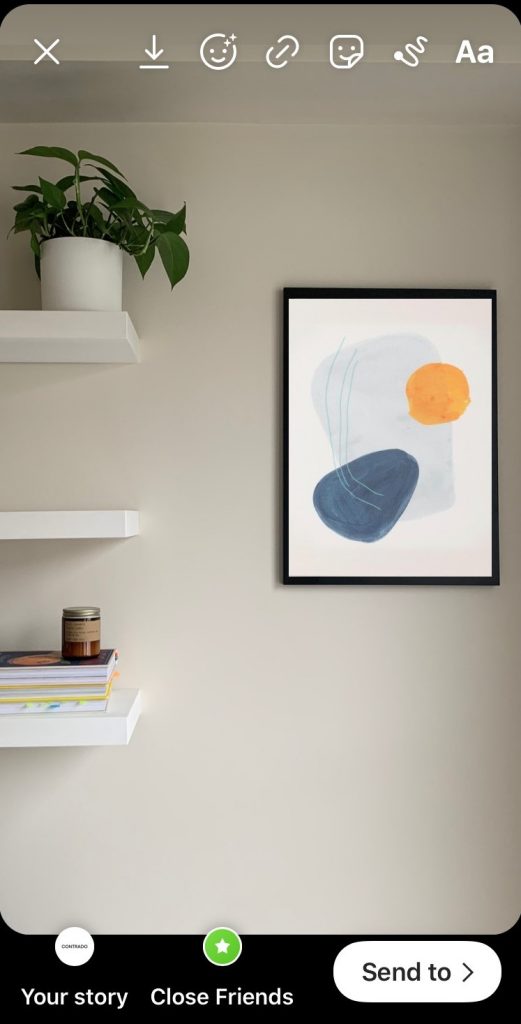 We know what you're thinking: you already have Instagram and it's definitely not an app to visualize pictures on walls. But with a little direction, you can turn it into one!
Take a picture of the wall you want to hang your photo on. Then, find the piece of art you're eyeing up and copy it. Open Instagram stories and, just as if you were going to post a story, select the photo you took of your room. Hold down on the screen until you see "paste" pop up, and paste your art photo. You can resize the art and move it around the wall as much as you want.
Honourable Mention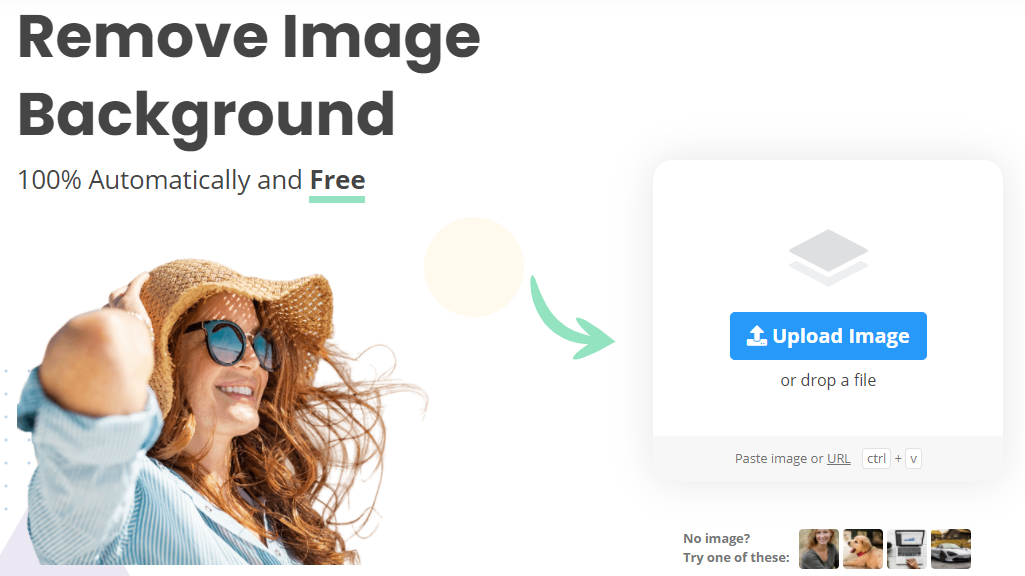 Remove.bg might not be exactly what you're looking for in a free preview art on wall app, but it's a great tool to help with the process. It works right in your browser to remove the background of your photos. For example, if you have a photo of your art but the background includes your messy workspace, you can upload the photo and remove.bg automatically removes the background noise. You can then download a PNG that you can use anywhere.
Design Your Own Art for Your Wall
Hopefully this helped you find an app to visualize pictures on wall. Whether you're an artist and need some fresh mock-ups, or you just need a new piece to spruce up the living room, these tools will help you on your way.
If you have a photo or design that you now know will look perfect on your wall, turn it into a premium poster, canvas, or a framed print.