The ever-changing seasons are a beautiful yearly cycle that signifies change and time passing by. Whether you have a preference or not you cannot argue with the individual beauty that comes from each season. It really does inspire the perfect season t-shirt design.
The changing of the seasons and the elements that come with them can be viewed as art itself. Nothing is more beautiful than nature, so there is nothing better to take creative inspiration from.
The seasons have inspired beautiful works of art both past and present, so allow the seasons to inspire your own creations. Create a beautiful autumn leaves inspired print on our custom t-shirts, or choose a design inspired by the summer sun.
From blossom, sunflowers, snowflakes and falling leaves, there are plenty of ideas that can be found within each season to inspire a beautiful t-shirt design.
Season Of New Beginnings – Season T-shirt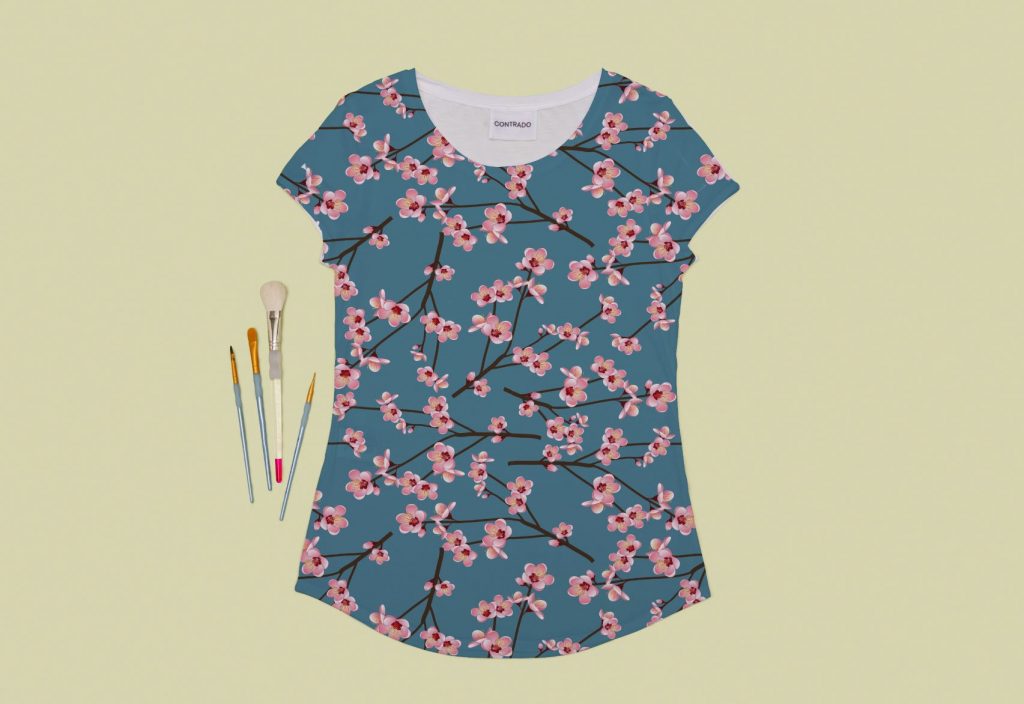 Spring is the season of change and new beginnings, whether that is the coming of new life into the world, spring cleaning or the litter of blossom that paves the streets. The coming of spring comes with a new lease on life. A fresh new outlook and the perfect time to create and get inspired.
So, what better than to look to spring for your inspiration. An elegant spring inspired t-shirt design would create a beautiful and fresh look.
When I think of spring, I immediately think of the beautiful cherry blossoms that bloom every year. Even when they fall you cannot help but love the dusting of pink that sprinkles the streets. They almost act as a signal to all that the harsh winter months are coming to an end.
Delicate and gorgeous in colour they would create a beautiful t-shirt pattern or design. With our all-over print you could quite literally sprinkle spring all over you. If floral prints aren't your favourite, you can gain inspiration from the beautiful spring pastels and incorporate them into your unique t-shirt design.
Season Of Sun And Travel
Blue skies, warmer nights and smiles all around. There is something so contagious about the joy that surrounds summer. Everything looks brighter and more vibrant in the summer months, and the rich colour palate is something to really take inspiration from.
So, take those perfect blue skies, or even take inspiration from those jaw dropping summer sunsets, and design a t-shirt that feels like summer to you. With a variety of areas to customise you can really let your season inspired creativity run wild.
Cosy Season T-shirt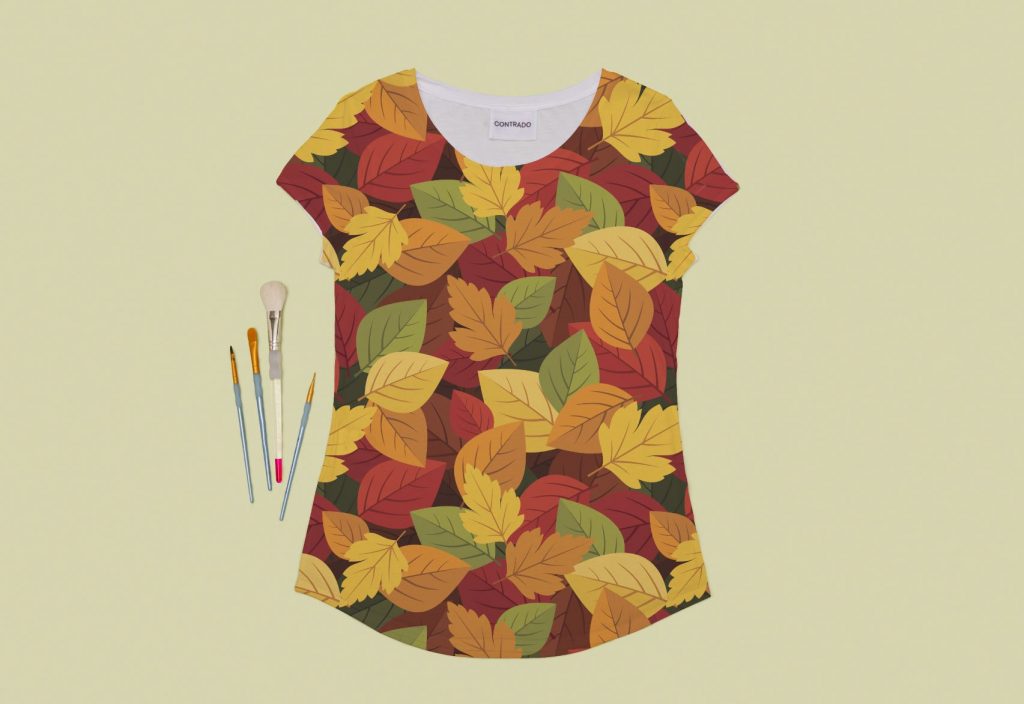 The temperature is dropping, the leaves are falling, and everything is looking very autumnal. It feels like the world is going into a blissful slumber. Autumn is rich with warm tones and cosy vibes. So much inspiration can come from this season.
Create a t-shirt inspired by the falling leaves or use the beautiful autumn colour palate. Either way there are so many unique autumn inspired creative options available to utilise.
Incorporate the pattern of autumn leaves or the beautiful warm tones to create a t-shirt design that feels like an autumn embrace. Autumn is all about getting cosy, so create a t-shirt that feels like a hug, yet is so fashionable and unique.
The Season Of Snow and Frost
Winter is when the cold has really set in, the trees are bare, and we have all fled inside for warmth. If we are lucky, we are blessed with a dusting of beautiful snow to spice up these sleepy months. The simple beauty of snow can really inspire a beautiful work of art, that will look even more perfect on a custom t-shirt.
Design a winter inspired t-shirt that will look unique and fashionable in your wardrobe. The icy winter tones can be used to create a wonderfully cool design. A wrap around design of a winter scene would create a really inspired look. Classic and classy, natures true beauty will really shine through.
Seasonal Tree T-shirt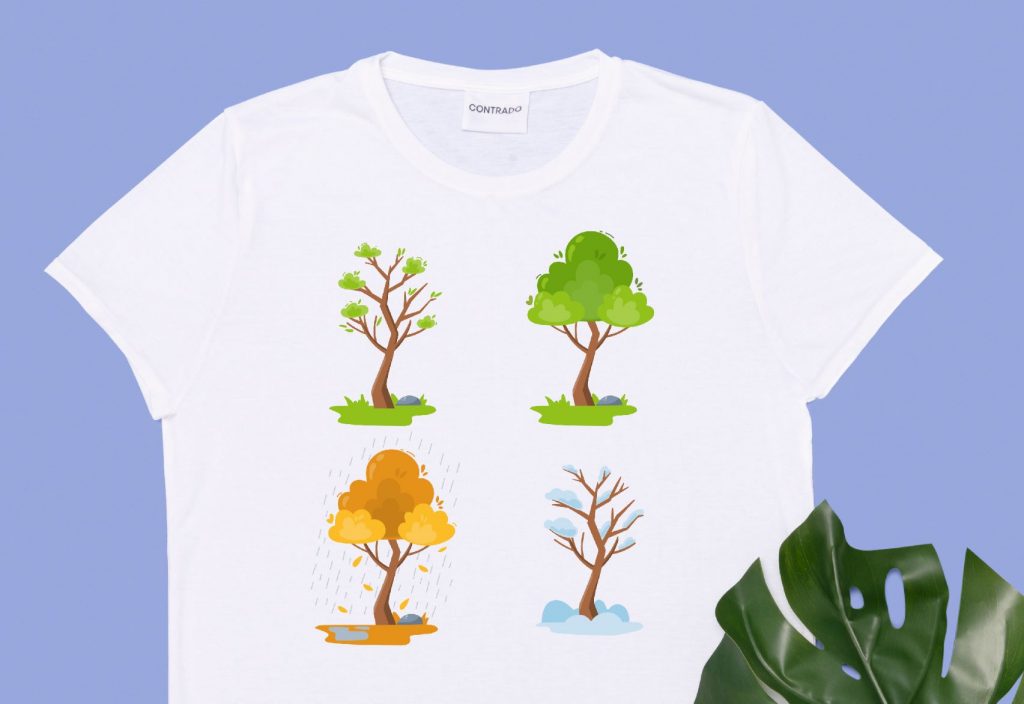 What captures the beauty and changes that come with each season more than our beloved trees? Trees go through the most evident changes in each season, so act as the perfect symbol.
A season inspired tree design would create a beautiful t-shirt that holds symbolic meaning. Representing the passing of time and the changes we experience throughout the year; a seasonal tree creates the perfect statement t-shirt. You can create a season inspired tree design with our all-over print that wraps all the way around the body and sleeves.
Get creative with it and design a unique season t-shirt that can be worn no matter the season. There is no better place to get inspiration from than nature itself.