The world of pop art is a bright and vibrant place, filled with bold designs that stand out and grab your attention. Pop art incorporates mass culture objects and media stars. Ultimately, it is all about embracing our modern world. It is current to its time, making it relatable to a modern audience. Pop art artists recognise that there is no unmediated access to anything. Everything is interconnected and they therefore seek to make these connections literal in the artwork that they produce.
Here are a few of our favourite modern artists who brought about influential and iconic pieces of work to the pop art world. If you love pop art then you already know everything there is to know about Andy Warhol and the other original pop art creators. So let's delve into the new, the current, and the impactful: the modern pop art stars.
Takashi Murakami
The most famous non-American pop art artist has to be Murakami. Seen as one of the greatest modern pop artists from Japan, he is a truly influential figure. Drawing from traditional Japanese paintings, anime, sci-fi, and the art market. Murakami creates paintings, sculptures, and films with repeated motifs and his very own characters. You will probably recognise his beaming flowers, one of his most iconic characters.
He merges various time periods, styles and subject matters into his work. Combining fantasy, science, and history to really show that nothing needs to be isolated. Murakami has had many collaborations with popular designers like Marc Jacobs and Louis Vuitton. His work has been mass-produced into items such as keyrings, t-shirts and even toys.
Yayoi Kusama
Kusama has lived voluntarily in a psychiatric institution for a large proportion of her life. Her work is seen as obsessive and demonstrates a desire to escape from psychological trauma. To share her experience she creates art and installations to immerse the viewer in her obsessive vision.
Her immersive art has been extremely popular over social media. And upon learning about all that she has endured, many people connect with her as an individual. Growing up in a deeply unhappy family, Kusama's art was not supported. Her own mother would destroy her work. However, this did not stop her from doing what she loved.
Art became a way for Kusama to understand the hallucinations she was having. She started to gain recognition and soon became the adored artist she is today. Kusama has been quoted to have said: "I decided that all I could do was express my thoughts through my art" and that she "would continue to do this until I died, even if no one was ever to see my work." A humble woman who adores her craft. She has made a lasting impact on the pop art world.
Banksy
The anonymous street artist is known for his public stunts and political messages. Banksy is a wonderful example of modern pop art. His work is considered controversial, however, this is simply because he provokes alternative viewpoints and encourages change in the art world. He shows his social and political agendas through witty illustrations, producing remarkable art. Using stencils and spray paint, he has produced art in several countries.
Stik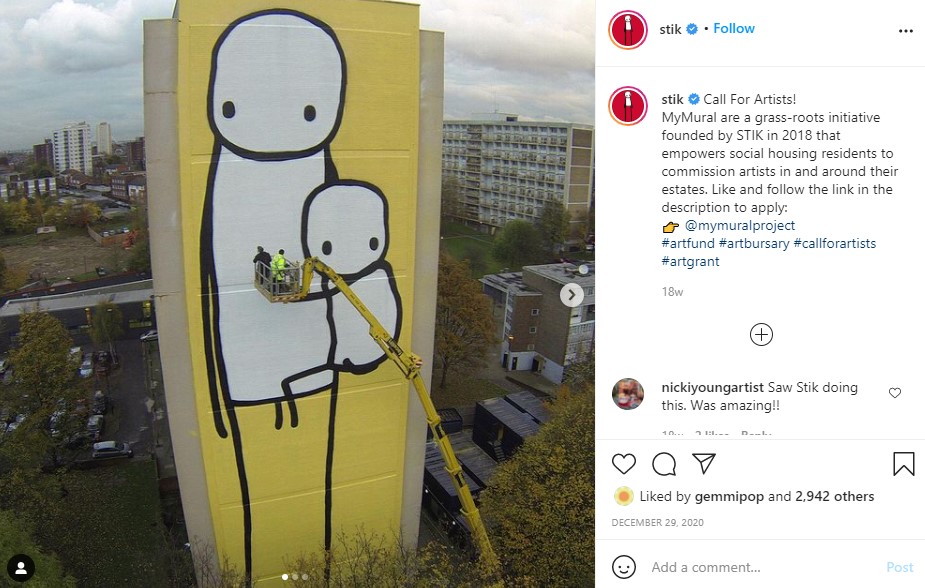 Another popular pop art artist who favours street art is Stik. Stik started drawing stick people when he was young and never stopped. His simplistic style is unique and effective. After becoming homeless for a short period of time in his life, Stik saw his street art as a way to give back to the community, For Stik, it is important to get endorsement from locals before painting on a wall. To him, the people are the most important thing.
His most famous and largest work of art is the mural Little Big Mother on the Charles Hocking House Council estate. It is the tallest mural in Britain. He wanted to address the issue of uprooted communities. The mother looks to what is next whilst the child looks to the luxury they will never have. For them, the final destination is unknown. Stik wanted to convey an element of hope to the piece. To him, hope is one of the most melancholy of emotions.
Stik gives a voice to minorities. Through his work he aims to draw attention to these people and the struggles they face, whilst still remaining hopeful.
Hisahiro Fukasawa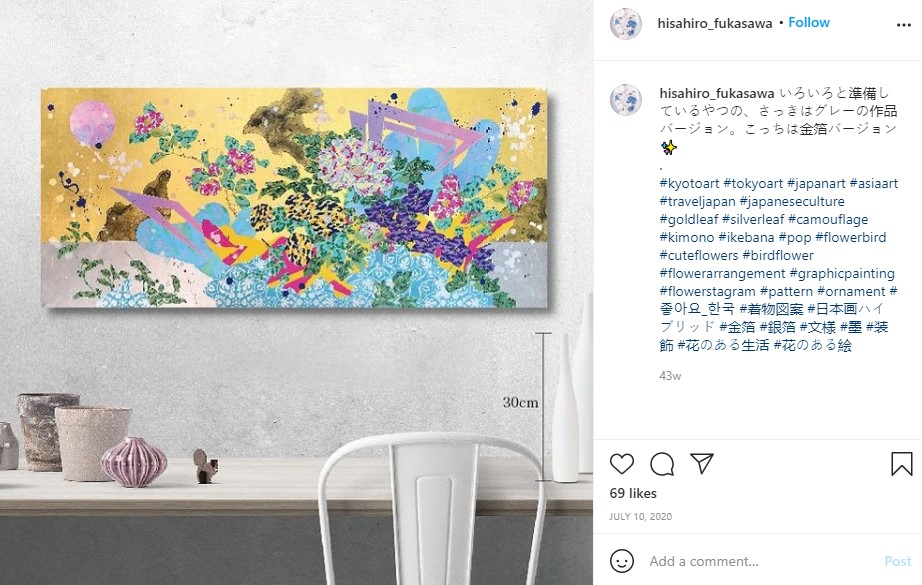 Fukasawa believes that things that have lasted a long period of time have a certain beauty to them. The beauty born from weathering and time cannot be mimicked. He wants to bring a modern approach to the depiction of flowers and birds, creating Japanese art with a modern twist.
He wants his work to have that traditional feel to it, whilst allowing it to seamlessly blend in with modern spaces. Like many pop art artists, his goal is to take inspiration from the old and bring it into the new.
Julian Opie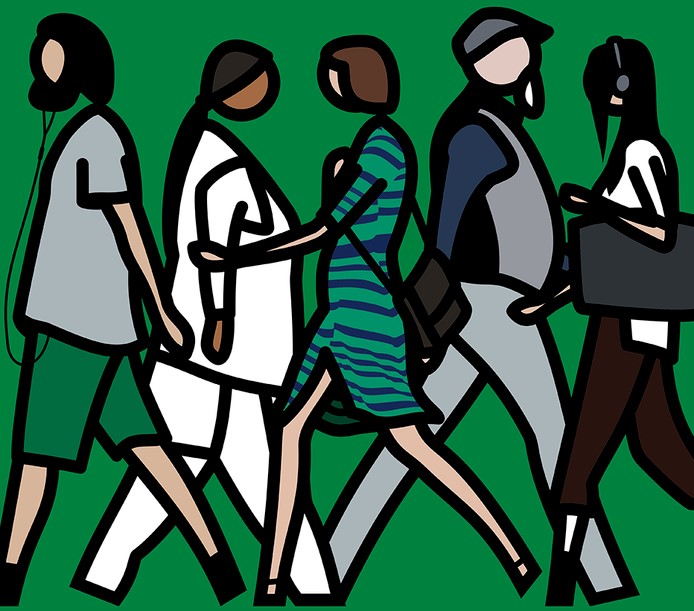 Julian was born in London and graduated from Goldsmiths School of Art. He is represented in 12 galleries all over the world. His work can be found in many public art collections including the Tate. His artistic style is instantly recognisable. Opie wants to evoke both a visual and spatial experience of the world around us. He gains a lot of his inspiration from ancient hieroglyphs and Japanese woodblock prints.
His subjects consist of thick black outlines filled with solid areas of flat colour. He once said of his art: "the process of reading things as simulations but knowing at the same time that they are real is quite central to my work."
Nico Bielow
Check out one of our very own pop art artists Nico Bielow. Born in Germany, and now living in the US, Nico produces colourful and vibrant art. His designs are unique and playful, guaranteed to brighten up anyone's day. A favourite of ours is his luggage paws artwork. So if you love pop art without the luxury price tag, Nico's art is the perfect option for you.
Sell Your Unique Pieces
If you are an artist, creative, or art lover, why not create your own art? At Contrado, you can choose from over 450 products to sell your original artwork and designs on. Head to our website to learn more and unleash your creative power. Let these pop art artists inspire you and your art!