As an emerging artist or designer, one of the best ways to get some sure-fire exposure for your work is by holding a designer pop up store. Whether you're selling printed clothing, accessories, art prints or originals, showcasing yourself as a brand and presenting your talent is an effective way to market yourself and your creative skills. Gain sales, customer loyalty, and brand recognition with our simple guide on how to set up a pop up store.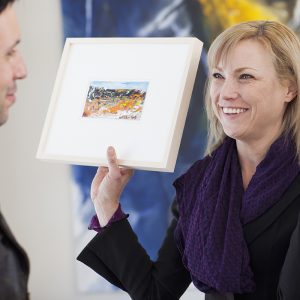 What is a Designer Pop Up Store?
It sounds interesting… but what is a pop up store for? A designer pop up store is essentially a temporary shop (usually anywhere from one week to a couple of months long), where customers can come and check out an artist's pieces in person and hopefully walk away with some brand new artwork or clothing.
Holding a designer pop up store can attract a more extensive range of customers to your current work. This is especially effective if you're launching a whole new collection and want to start out with a bang and build some excitement.
One of our artists Karl Jouanni recently held a successful 3 week pop up in London to mark the opening of his clothing brand, 'Alive and More'. People were buzzing to check his work out after being teased with the product launch online, and business is pretty much booming.
Choosing your stock
It's likely that if you're just starting out, your designer pop up store won't occupy a huge amount of space, so focus on showcasing the best of your brand and creating an aesthetic rather than having too much on show. Customers like to know what they're looking at as soon as they step into that store without having to rifle through tons of items. Choose your bestsellers as well as a varied range of products that can appeal to a wide audience. After all, you never know who's going to drop by. If you're selling clothing, accessories and prints make sure you display at least a few of each type. This way, visitors get an idea of the full product range.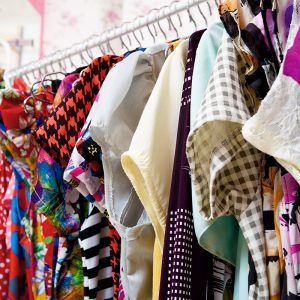 Sourcing your products
This can often be the tricky part – but it doesn't have to be. Buying or creating larger quantities of stock for your designer pop up store can sometimes hit the bank balance hard. Luckily Contrado offers wholesale discounts to artists who are buying in bulk for trade. Perfect to get your stock sorted for your new designer pop up store.
If finance is an issue, Contrado also offers 'Klarna', a credit option that can be paid off following your big shop sales! It's super important to have a reliable, speedy supplier (particularly if you sell out of stock before your shop closes!). Luckily, Contrado produces the majority of products ready for dispatch within 48 hrs.
Location, Location, Location
Location is everything. Well not everything, but the location of your designer pop up store plays an enormous part in the footfall you'll get, and consequently your success. If you live in Oz and have the resources, I'd recommend getting down to Sydney or Melbourne and renting a space or a market stall somewhere central. Known for up-and-coming fashion and artwork, huge amounts of foot traffic, and a buzzing social scene, these areas will be sure to bring in an incredible range of customers and get your shop on the map.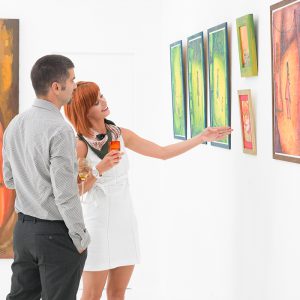 A Killer Display
As an artist, you probably know how important visuals are – especially when making a first impression. Think of ways your shop can stand out amongst surrounding stores, even if it's downplaying the style so that your product selection attracts attention.
Do you want a chic, minimal interior to reflect sleek designs and subtler colours? Or do you want to jazz up your brightly coloured pieces even more by dressing your pop up store in funky textures and patterns? Will you display clothing on wooden rails for customers to rifle through, or fold and showcase on Perspex box platforms?
The possibilities are infinite, but it's important to consider a display that will reflect and represent your brand as well as entice visitors to enter your pop up designer store.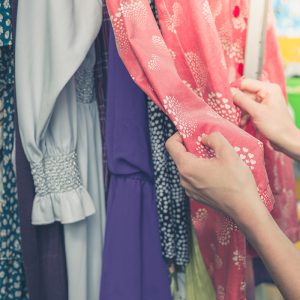 Build That Buzz
Promoting your pop up will contribute to its success in a HUGE way: get people excited a few weeks beforehand so that they keep it in mind. This can be done by creating an online counterpart, and via social media promotion. Create an online store showcasing your printed products to get people excited about seeing your work in person, and potentially building their own wish list!
Social media is imperative. As a visual platform, Instagram is an essential for attracting customers to your work and gaining a following. It's generally a good idea to post 1-2 times a day at peak times. You can share new work, interesting details, and sneak peeks of your pop up for people to get a preview. Check out our top social media tips to get visitors enthusiastic before your launch.
Another fun way to get those customers in is by hosting a launch night. On the evening prior to your opening, you can hold a launch party where visitors can come and get a first look at your new collections, mingle, and get to know you and your brand. It can help increase awareness of your work as well as getting some all-important contacts knocking on the door.
Keep Them Coming Back
Many customers might stumble across your store and unfortunately may not have the time to shop there and then. But that doesn't mean they won't want to in the future. By creating an online store, they'll know they can shop any time even if they can't make any purchases at the event. Similarly, some people may have discovered your online store and want to check out your pieces in person – so it works both ways to fuel sales!
Want to get started with creating your own digitally printed products to sell online, or for a future designer pop up store?