When you're getting into the business of selling art, it's best to have all your questions answered up-front. Of course, sometimes you don't even know what you don't know, so the question of how to sell fine art might seem like a big one; that's exactly why we're breaking it all the way down and giving you all the information.
Fine art can fall into two groups: physical and digital. However, you're not pigeonholed into one or the other; you can turn your physical art, like a painting, into a digital creation that can be reproduced. The benefit here is that your digital art can easily function as designs for print on demand products, such as the handmade products at Contrado. You can do this by dropshipping, buying wholesale, or opening your own store. Keep reading for all the info about these options!
Where to Start
Since fine art is such a broad term, you can basically sell any of your creations as fine art. You can create in any medium that you're drawn to and design pieces to sell.
One fantastic option is to start dropshipping your art. You can turn your fine art photography, paintings and more into designs that can be used on basically any product you can dream up. Then Contrado makes your product and ships it straight to your customer. It's all the best parts of having a brand without getting bogged down by the heavy lifting. Learn all about dropshipping here!
Create Your Presence
There are loads of ways of selling fine art. Physical pieces can be sold either in-person or online (or both!). Either way, you'll have multiple options. If you want to sell in person, you can sell at pop-up markets, flea markets, local businesses, galleries, or even your own store if you're ambitious.
When it comes to online, your choices are pretty much never-ending, so we'll focus on just a few. You can create your own website, sell on a marketplace platform, or run your business on social media. For the most exposure, doing all three is ideal.
Make a Website
When you have your own website, it functions as a hub for everything related to your art. You can have a page for your artist bio, let people know if you're taking commissions, and sell your art directly through your own domain.
There are plenty of websites you can use to make your own art website. For a free option, Wix has all the basics. If you want something that allows for more room to grow, we recommend Shopify.
Top tip: Contrado integrates with Shopify for dropshipping. You can seamlessly connect an existing Shopify store with Contrado to sell even more items. To make the most of your Shopify website, you can sell physical items that you've made as well as items that you dropship with Contrado.
Use an eCommerce Marketplace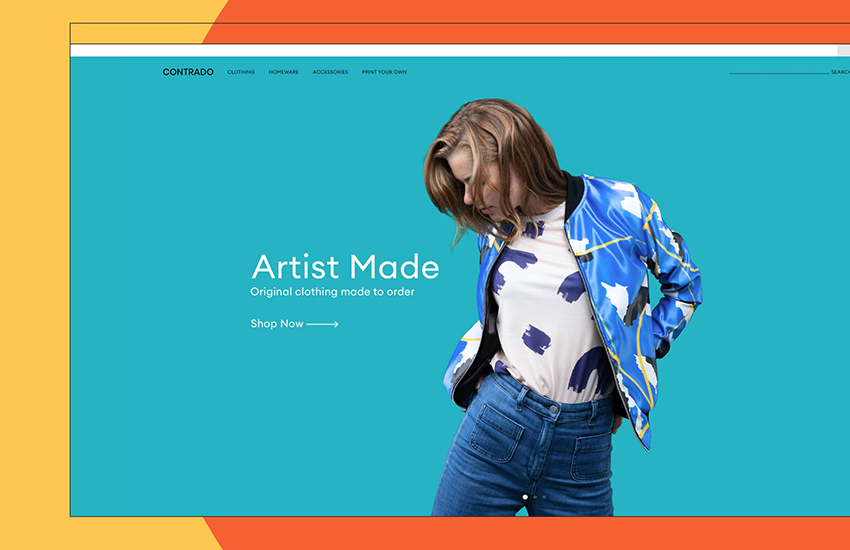 You've surely heard of eCommerce platforms where artists list their art for sale. In fact, if you asked a friend how to sell fine art, this is likely where they would've told you to start. There are plenty of eCommerce marketplace platforms out there, such as Etsy, eBay, or Rakuten.
If you have already-made physical pieces to sell, you can get started and list them for sale on an eCommerce marketplace. If not, you can design new items and purchase them with a wholesale program. With Contrado, you can design any product to be printed on demand and buy them in bulk with our exclusive 20-40% wholesale discount. Then you'll be able to list these products for sale on a marketplace platform.
Harness Social Media
There's no way we can help you sell fine art online without talking about social media. This is an easy place to start because you probably already have the apps on your phone! You can create profiles for your business and promote your art on Instagram, Facebook, Twitter, or any platform you prefer. Your profiles can be used solely for promotion and direct people who want to buy your items to your website or marketplace page.
Alternatively, you can use social media to actually sell your pieces. If you're just starting out, this can work well. It's free and you're likely already familiar with it. However, as your business grows, using only social media for selling fine art can become intense; the process won't be automated, so you'll have to work on everything yourself. When it gets to this point, you'll know that it might be time to create a website or move to an eCommerce marketplace.
Check out our secrets for promoting your art on social media and our guide to using Instagram hashtags to sell art.
General Tips for Selling Fine Art
Always go with what feels right, but be open to new opportunities. If you've started out selling one type of item, you don't have to put yourself in a box and just stick with that item. Your business will grow and evolve as you learn new information. Keep an eye on feedback from customers and insights from the platform of your choice, which will help you know what pieces are selling and what's not. You'll be seeing profits in no time!
Start With Contrado
If you have two-dimensional art (such as photography or paintings) that you want to bring to the three-dimensional space, consider turning your art into items like clothing, décor, or accessories. This is an amazing way to transform your work and generate more income. Your paintings can become a clothing line, and your photography can become handmade canvases. When you open a store on Contrado, you have limitless options for what you can create.