City Auto automatic opening
Two handle colour options
Customise 8 printable panels
Strong and durable
Wind resistant canopy
Sustainably printed
Quick worldwide delivery
Ships in 4 - 5 days
.
Australia delivery from $34
Delivery options
We also offer
Wholesale and student discount from no minimum to bulk orders
View discounts
Check our gift cards,the perfect gift for you loved ones.
Product Description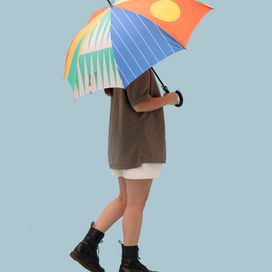 Turn a rainy day into a rainbow day with your own custom umbrella. Printed umbrellas are a wonderful way to showcase your style, even when it is pouring outside. Expertly crafted by skilled technicians, this handmade umbrella will keep you dry and chic. Featuring eight printable panels, two sizes, a wind and waterproof canopy and your choice of handles. These unique and high-quality umbrellas benefit from a sliding cup on the handle that is loose and slides up to cover the end tips when the umbrella is closed and releases them for opening. Face the rain with a beautifully made accessory; your new umbrella is an iconic accessory made just for you.
Care Instructions
To clean your umbrella, simply brush off hardened dirt, or shake it off when wet. As the canopy is made from a water-repellent fabric, it is self-cleaning. The non-aluminium sections off the umbrella is non-corrosive, so you don't have to worry about them rusting over time.
How it works
Upload your design
We automatically apply your design to the product you selected
Make it perfect
Use our smart tools to get it exactly right and select the finishing options
Preview & checkout
Confirm your designs with our 3D previews and checkout with confidence
1-2 Days Production
Sit back and relax. Your product is on its way!
How our pricing works
Our pricing is based on the quantity and dimensions of the products you order. The more you order, the better price you'll get. We also offer lower pricing for larger dimensions, students, and wholesalers.
We offer discounts
We offer discounts on all our products, including bulk, quantity and student discounts. Enjoy great deals whether you're a small business, designer, or student.
Volume discount
Wholesale
Students
Based on Quantity
Up to 44%
Up to 20%

Discounts

Discount available. Price by selecting dimensions & quantity.

Find out more
Find out more
City Auto automatic opening
Two handle colour options
Customise 8 printable panels
Strong and durable
Wind resistant canopy
Sustainably printed
Quick worldwide delivery
Ships in 4 - 5 days
.
Australia delivery from $34
Delivery options
We also offer
Wholesale and student discount from no minimum to bulk orders
View discounts
Check our gift cards,the perfect gift for you loved ones.
Help
More details
About Your Custom Umbrella
At Contrado we understand the importance of a good personalised umbrella. Umbrella printing is something we do best, so when you design your own umbrella, you can be sure that you will be receiving a brolly made with the utmost care and attention to detail. The crook handle is available in black or natural. Your new custom umbrella has a generous canopy that will keep pesky rain showers at bay. With eight printable panels made from the durable and resilient Linden waterproof fabric, your designs will look vibrant and stylish for years to come. Order any number of custom umbrellas as they are available with no minimums.
At a glance
Automatic opening
Wind resistant canopy
Edge-to-edge print
8 printable areas
Two handle colours
Umbrella Sizes
89 cm long
102 cm full canopy
Weighs approx 400 g
How Your Printed Umbrellas Are Printed & Made
Umbrella printing takes place at the Contrado studio. Every order is handmade by expert artisans. The large canopy has 8 printable panels, each of which can be individually designed, making your custom umbrella one of a kind. Your designs are printed onto Linden waterproof fabric, which is renowned for its superior print quality and its water resilient nature. Lightweight yet tough, it makes the perfect canopy fabric for printed umbrellas. The metal frame of your umbrella has been made with supreme skill, and the sleek opening and collapse mechanisms are strong and sturdy, making them ideal for wet and windy weather. Each panel is individually printed using a specialist digital process before it is hand cut and stitched together. We finish the spokes of the frame with metal tips. These not only add a classy finishing touch, but they also protect from the sharp edges.
Design Tips
You can have a lot of fun with umbrella printing. The design interface gives you 8 individual panels to print on, allowing you to create a continuous pattern all the way around the umbrella, or a different design per panel. The City Auto umbrella has an automatic opening and a crook handle in your choice of black or natural. We think this looks stunning if your design is more traditional, or if you want to evoke an aesthetic from a bygone era.
How does this product enhance my...
Home
Keep yourself free from drizzle with your own bespoke umbrella. Flimsy, pocket sized umbrellas might be suitable for a light shower, however when the rain pours down, you want the protection of a large canopy and a sturdy structure. Design your own custom umbrella and create something that will show off your personal style, even in the darkness of a thunderstorm. Opt for original artwork, typography or unusual patterns to make yours stand out.
Business
If you run a luxury hotel or B&B, then you will know that it is all about those little special added extras. Small details can make all the difference to your customers, and can be a sure fire way to entice them to stay with you again. Why not design your own umbrellas with your hotel name or logo included in the design? Leave an umbrella in each bedroom, and some in the lobby, so guests can enjoy a walk in the grounds, whatever the weather.
Design Brand
Expand your product catalogue by creating a range of custom umbrellas with your original artwork. Your luxurious, handmade umbrella makes the perfect accessory for any collection. A universally useful product, made all the better with the expert craftsmanship and your designs. They make a unique supplementary product to include alongside coats, jackets and any other outerwear - even bags. Your customers can enjoy matching their accessories with their fashion.
Print guidelines & finishing
Print Guideline
What's the best resolution to print in?

We print at 200dpi, which is a good combination of quality and file weight. Ideally, your image should be scaled to 100% at 200dpi, this means that no resizing of your file occurs stopping any interpolation.

Should I save my file as a TIFF or JPEG?

For multi-coloured or very detailed files we recommend using a tiff format, but they must be flattened. For simple colours and low detail files, a jpeg is fine.

Which colour model should I choose? RGB or CMYK?

We advise providing images in the RGB colour space. Specifically using the sRGB image profile, to achieve best colour results.What does this mean? In your editing software choose RGB as the working space, and assign the image profile as sRGB (full name sRGB IEC61966-2.1)

What does GSM mean?

Grams per Square Meter (GSM) is an international standard for measuring the weight of paper or fabric. GSM uses the weight of a square meter (1000 x 1000mm) as an indication of the weight and thickness of a given fabric. We class 20-100gsm as light (summer fabrics, gauzes and fine silks), 101-249 gsm as medium (most clothing fabrics) and 250+ gsm as heavy (upholstery fabrics, and other specialist fabrics).

What are bleed areas?

When designing your product, it's best to make sure that your image is slightly larger than needed. In printing, the extra printed image is referred to as a "Bleed Area" or margin, and it is removed from the finished piece. A bleed area acts as a buffer for slight inconsistencies in the manufacturing process. however, it's important to fill your bleed areas completely, or you may end up with white, unprinted strips along the edge of your finished product.
Do you print on garments a customer supplies?

Unfortunately not. All our garments are printed on flat fabric and sewn into finished products, which gives a better-finished result and all-over print. We test meticulously so that we know what gets the best results on our fabrics, and our facilities cater perfectly to them. We do however print sublimation paper to order, so if you have access to a heat press you can press your fabrics or flat garments easily.

Can you Align a Pattern or design across panels of a garment?

We always strive for the greatest accuracy when printing and constructing your garments. However, due to unavoidable stretch or movement of the fabric during the stitching process, we cannot guarantee perfect pattern registration across garment seams. We are generally accurate within 2-3mm, which is close enough for most patterns but may show slight issues with detailed geometric patterns.

Can I print my own Labels?

Most of our garments now come with printable label space for you to add your own company information and branding. If you would like to sew in your own labels, we also offer Printed Fabric Labels here.

How is your fabric printing eco-friendly?

With environmental consciousness in mind, our fabrics are all printed using completely water-based inks. This means no chemicals or solvents are used. Our heat fixing procedure fixes the colours and prints, avoiding the downsides of steaming, such as excess or contaminated water returning into the waste system. We have one facility where we conduct all the printing, production and fulfilment.
Please note: As everything we provide is handmade to order, all measurements may vary slightly.
FAQ
What is the City Auto Style?
The City Auto style is a generous 89cm x 102cm umbrella. It is made from Linden Waterproof material and has two crook handle options. Your choice of either black or natural. It also has an automatic opening with a top lock.
Is the umbrella waterproof?
Your new custom umbrella is completely water repellent. Made from a touch and durable Linden waterproof fabric, your umbrella is resistant to water, so raindrops simply rolls off of the material. The expert stitching ensures no drops will work their way through the seams of the fabric.
How many areas can I customise?
Your new umbrella is unlike anything you have seen before. Taking customisation to a new level, the unique design interface allows you to print on all 8 of the umbrella's panels. This means your designs or artwork will cover the whole of the umbrella, creating a completely bespoke piece.